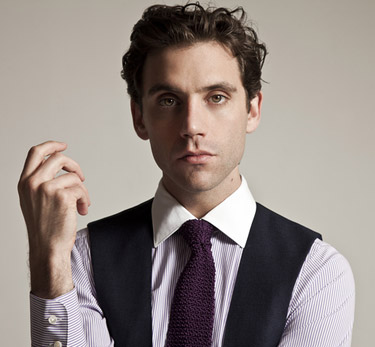 Mika
MW: You grew up primarily in London, right?
MIKA: I was born in Beirut, grew up in Paris and then London. A lot of my vacations, whenever we could, were in the states. But today I live in London. And I have a house – this old ruin from the '20s – in Miami, by an architect called Russell Pancoast, that I've been trying to restore for the past three years. It's this crazy thing. When you walk in, you think you're walking into Sunset Boulevard.
Miami is a funny place. A lot of people think of it as terrible clubs and stuff, but I think it's a really fascinating place. The South American and Latin American influence is overwhelming, in a really good way. And I was discovered in Miami. That's where I was first making my demos. That's where I've written, overwhelmingly, the three albums' worth of songs. I never really talk about the fact that I work so much in Miami, but I do. I like going there. It seems like I'm in this other world. That's what I feel like when I'm in Miami.
MW: I know you work with your sister Paloma, and your sister Yasmine designed the covers of your first two albums. How many siblings do you have?
MIKA: I have three sisters and one brother. I work with all of my family. We're all in the arts. We're like a weird collective, an immigrant mafia. [Laughs.]
My little brother is an architect. My other sister is a jewelry designer studying at [Central] St. Martins. Paloma, for many years, worked in production, but at the moment is not working. And then Yasmine is an illustrator and painter. I don't know why we all ended up in the arts.
MW: Your parents didn't necessarily groom you to be in the arts?
MIKA: We came from nowhere. We are the nowhere kids. And when you come from nowhere, you create a world around you. That's what we did.
MW: You're saying you came from nowhere because you moved around a lot growing up?
MIKA: Well, we're the children of first-generation Americans [but have] never lived in America. We identify with New York City, in such an affectionate way, yet we've always lived in Europe and abroad. My sister has lived in China. So, it's like we come from nowhere. We're the nowhere kids. We had periods in our lives where we've had a lot of money. My father did really well. And then, overwhelmingly, periods in our lives where we had absolutely nothing, lived in the English equivalent of a motel for four years, running away from taxes and rents that we couldn't pay in France. Such ups and downs.
MW: What do your parents do?
MIKA: My father worked in finance. He was far too honest, though, to work in finance. That was his problem. If only he could have been a little bit more crooked, he would have been a lot richer.
My mother was a dressmaker, and she specialized in children's clothes. We grew up surrounded by thread and materials, because my mother had her workshop in the kitchen and in the living room. So we had her and her, like, 10 dressmakers who were making children's clothes all the time and selling them in shops under different labels. And then she stopped that, because with five kids and a father who's never around, I think she feared that we would be seriously fucked up.
MW: You got used to costume changes early on? And playing dress-up?
MIKA: Oh, yeah, absolutely. Can you imagine? My life was a giant dressing-up-off! Our apartment was a mess, because it was a workshop. And everyone knows that an apartment that's a mess is the most creative place to ever grow up, because when it's a mess, you make it into anything you want. And there were clothes everywhere – dressing up was actually quite the serious part of growing up. Dressing up wasn't just a stupid thing that was done at some children's party. We all dressed up, all the time, as different things and different people. And stay in character for, like, the whole day. It's really weird. I look back on it now and I'm just like, well, no wonder I didn't have many friends. [Laughs.] But you know, we were five — we were a gang. So it protected us.
MW: Do you think you'll ever have kids yourself?
MIKA: Yeah, why not? I'd love to. It'd be great. The problem is — you know, everyone's always worried, especially in Europe at the moment, "Oh, should gay people be allowed to have children?" But it's more like, should someone with my job and profession be allowed to have children? It's kind of like, if you don't have enough time, and you can't actually go home and visit your dog, what the hell are you supposed to do with a kid?
MW: Did your family have any trouble with you being gay?
MIKA: A little bit, to begin with. But then, you know, tough shit, get over it.
MW: Your success must have helped.
MIKA: Oh, no, success has nothing to do with it. It's more about ignorance. You can love someone and realize that they're being ignorant. And you can fight it slowly. I guess I learned a lot about how to deal with the tolerance of people's misgivings when it comes to sexuality, because I learned it within my own family. I never got angry, I never was violent about it. I was never vengeful. I was just like, okay, in time, and in trust.
It was just ignorance. It just took time. But it certainly wasn't about success. Because success doesn't validate anything. I actually think success compounded the whole situation. It was just like it made it all weirder.
MW: Just being honest and comfortable in your own skin — that had more to do with their acceptance?
MIKA: Oh, I'm completely uncomfortable in my own skin. I'm completely uncomfortable. [Laughs.] I think that's why I write songs, because I always want to be something else. And I can turn myself into anything if I write a song. I visualize that I want to sing like a 16-year-old goth, and then I write a song about it, and I feel like that person. I'm neurotic, self-contradictory and just unbearable. And for all those reasons, I write.