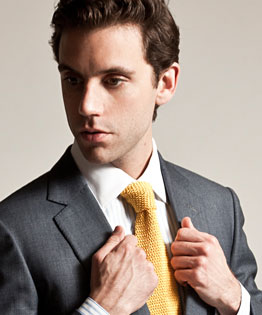 Mika
MW: Did you grow up practicing religion?
MIKA: Yes, I am still a Roman Catholic. And I grew up a Melchite, which is one of the oldest forms of Christianity. The Masses are in Aramaic, and it's a Lebanese form of Christianity that is similar in some ways to Greek Orthodox, but it's not. It recognizes the pope. And a big part of my life growing up was church, and the ceremony of church. Added to that, when you're a child and you sing, inevitably, 50 percent of the material that you're going to be doing, even for professional jobs, is going to be religious-based, in a church. So the show biz of church – the preparation that goes into those ceremonies – was a very big part of my training growing up.
It's just that no one ever talks about the impact of ceremony as you grow up. I saw [filmmaker Pedro] Almodóvar in an interview where he walked into a church from his childhood, and he just literally, verbatim, went through every single move – 'cause I think he was an altar boy – of the incense, the way it swung, the way it smelled, the preparation, the monotony of it. The theater of it. It has a very big part to play in how you approach work, I think.
MW: Well, it's definitely influenced your work.
MIKA: I think so. Yes, it did. It's definitely a running theme in my work.
MW: In the song "The Origin of Love" you even create your own religious Latin chant. Or at least I assume it's your own.
MIKA: It is, exactly. I mean, it's a mixture of Latin and Spanish. So there's "Madre deus Deus machismo." And the whole song is about church. The whole song is about religion. It's about the Roman Catholic Church, which I love dearly – even though I'm not a bigot and I'm not in denial of the human condition. Yet, at the same time, it's a very strange thing, 'cause I'm very respectful of that world. But I give myself the privilege to, I don't know, take what I want and not be distracted by the political noise of religion. Because it's the political noise that sucks. At the end of the day, religion and spirituality and faith, whatever forms and doctrines it comes in, they're very important things. I don't believe in the Bible verbatim in any way. And I don't believe in the politics of religion. It makes me sick. Well, it doesn't make me sick, I just ignore it.
MW: What do you think of the new pope?
MIKA: I think it's really important to get an understanding of this pope. Never before have I felt like the job of being pope has had equal amounts political work as it has spiritual leadership. Pope Francis feels, in my opinion, like someone who's extremely conscious of the political situation and the politicking that goes into his position. And I find that really interesting. He doesn't feel like this mythical creature that Pope John Paul was. He feels like someone who is an extremely clever, intellectual, academic man, who is from the outset positioning himself with tactics that Obama would be impressed with. And he is a writer, just like Obama. And he is taking this whole humble-but-firm approach like Obama. Unfortunately, he's not as liberal as Obama, but then again, Rome, and the Vatican, wasn't built in a day. [Laughs.] So who knows?
I don't agree with his views. I think it's harsh. I think it's alienating. But I think it's fascinating to observe.
MW: And you're still practicing?
MIKA: No. I mean, I go to church from time to time. I like going to the London Oratory because, you know, I grew up in that church, and it's a huge thing. And when they have a Mass, they have trumpets and opera singers that are good enough to be singing at the English National Opera. The whole thing is free. The ceremony is kind of cool. And it's packed. And it's just quite an amazing thing. So I go from time to time. But, no, I'm not a regular churchgoer at all.
Even if I don't agree with Catholic politics, I still see value in its faith and the ceremony, and I think that's really important. And, again, it's okay to have opinions like that, that are contradictory. Somehow in life, if you have contradictory opinions on things such as religion or politics, it's seen as not right. But why not?
Who was that actor? That amazing gay English actor who was in The Madness of King George and died a couple years ago? [Nigel Hawthorne.] He played the king. When he died, in his obituary, there was something really funny that was written by his partner: The one thing that made him so intolerable was also the thing that made him so loveable and always interesting, because he constantly contradicted himself. And I get that. It's a constantly changing dynamic. It's like never resting on your form or opinion. Always moving, changing.
MW: Speaking of changing, I also wanted to talk to you about "Popular Song." What inspired you to sample from Wicked?
MIKA: I've always liked that melody. And I know Stephen Schwartz. The reason why that musical works so well is because the characters discuss such human topics. Besides the cleverness of the [concept], the prequel of Oz. The themes are so human. In the same way that The Wizard of Oz was so powerful, because it was about the human condition and weaknesses and strength. And with "Popular," I found it quite amazing. It sounded like something that Patti Page could have sung, which is always a good thing. It felt like from another time. I thought it would be interesting to take the song and turn it around, so that it's actually the loser who's singing the song "Popular." It's kind of like my version of the sequel of that song. Because I didn't want to just take the hook, copy and paste it. I had this idea to kind of do Part 2.
The words are vicious. I use the word "faggot," which I really got a lot of shit for from people around me, who didn't want me to use the word. It's quite brutal. It talks about bullying, and it talks about all these things, but it's just so sweet. It's got that sweetness to it. It's got that old-radio hooky-ness, which makes it palatable. Which makes it funny. Which brings good humor and the tolerance back into the subject matter.
MW: I bring it up is because it made me wonder if you've given any thought to writing your own musical.
MIKA: I am not ready. [Laughs.] I am not ready because I think it's such a monumental thing. Two of my favorite writers ever are Kurt Weill, who wrote The Threepenny Opera and Lady In The Dark and all that stuff. He's genius. And also Cole Porter. It's just crazy the amount of good writing that came out of those men, especially Cole Porter. He's one of the best songwriters who ever lived.
I think writing musicals, if you want to do it well, it's going to suck up your life. Whether it does well or badly, it's still going to suck up your life for at least five or six years. So, I'll wait until I'm ready to suck up my life. But in the meantime I'll keep getting ready, because I really want to do it. I do, actually. I really want to do it. But I've got to take my time with it.
MW: So that's something you'll work up to?
MIKA: Eventually, yeah. Yeah, I will. It's funny because a lot of what I'm writing now could easily be taken and put into a movie, you know? A musical movie.
MW: Aside from a musical, what else do you hope to accomplish? What do you see for your future?
MIKA: I want to keep making these records that are like little worlds. It's just the only way I know how to make records. I want to turn around when I'm 80 and look at like these colorful, delicious, sliceable [records], you know what I mean? They're chunky and have all this delirious detail, and each album that I make is like a little universe, and I find that really appealing, building those things. And I want to just keep doing that, because I know that in time it will be just such a nice collection of stuff that I have made.
It's just all about fantasy, really. It's about make-believe. And that's what I do. It really is what I do. I've always said, you know, when I'm 80, I just want to be a minder of make-believe, and I don't need anything else.
MW: And songs and music allow you to escape?
MIKA: Exactly! It's the transformative power of melody, that feeling that it gives you, you feel suddenly like…. Like you never knew what heartbreak was until you hear a melody that makes you feel like you might know. You can feel like a 7-year-old child again, you know? Just that thing. Just that little rush of endorphins that you get when you can't understand what you're hearing, but it makes you feel a certain way. And that is quite addictive. And you chase it, and you want to make something that makes you feel like that.
Mika performs Wednesday, April 10, at 8 p.m., at Sixth & I Historic Synagogue, 600 I St. NW. Tickets are sold out. Call 202-408-3100 or visit sixthandi.org.