While GOProud remains banned from the annual Conservative Political Action Conference organized by the American Conservative Union (ACU), that won't stop one sponsor of CPAC from holding a pro-gay-rights panel during the conference next week.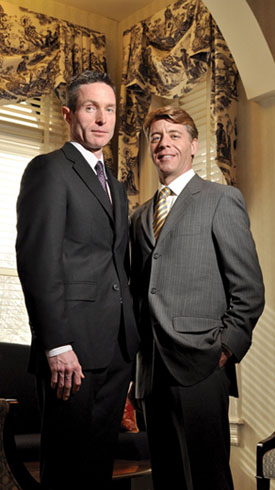 The Competitive Enterprise Institute (CEI), a free market and limited-government nonprofit focused on economic and environmental policy, will host a panel titled "A Rainbow on the Right: Growing the Coalition, Bringing Tolerance Out of the Closet."
First reported by Washington Post blogger Jennifer Rubin earlier today, the panel will include GOProud Executive Director Jimmy LaSalvia and Republican consultant Liz Mair, who also serves on GOProud's advisory board. Rubin, along with CEI founder and chairman Fred Smith, National Review's Jonah Goldberg and CNN's Margaret Hoover — a GOProud supporter — will also participate.
According to CEI's communications director, Christine Hall, as a sponsor of CPAC the organization will utilize the option of reserving a room at the hotel where CPAC will be held in order to host the panel.
"I think, like a lot of people, there are many within this organization who were distressed by the decision by some on the ACU board not to have GOProud sponsor the event last year," Hall told Metro Weekly. "We wanted to send a message of inclusion, not just to Jimmy LaSalvia and GOProud, but a broad message that we very much value the diversity of voices."
CEI's decision to host a discussion of gay inclusion in the conservative movement comes after the ACU has faced criticism for not fostering a discussion of inclusion and refusing to invite GOProud, as well as New Jersey Gov. Chris Christie (R).
Although GOProud participated in CPAC in 2010 and 2011, the group for gay conservatives was kicked out of the conference last year after former GOProud board president Chris Barron labeled conservative attorney Cleta Mitchell as a "nasty bigot" and blamed her for the decision by the Heritage Foundation to remove itself from the conference over GOProud's participation. Although Barron apologized, GOProud has not be invited back since.
"I'm grateful to CEI for putting together this important discussion," LaSalvia told Metro Weekly, adding that despite his invitation to participate in CEI's panel, this does not mean GOProud as an organization is back at CPAC.
With the panel scheduled for March 14 at 6 p.m., Hall says reaction from CPAC organizers has been limited. "In terms of their reaction, they haven't said no. They haven't objected," Hall said. "Our event is very much in the spirit of offering our friendship and wanting to include groups like GOProud."
The relationship between CEI and GOProud extends back to 2011, when CEI teamed up with GOProud to throw a party with Andrew Breitbart.
According to LaSalvia, the panel will be an opportunity to discuss a conservative coalition for the future.
"I want to talk about how we can build a new conservative coalition that can win. And that coalition has to include gay conservatives, and it has to recogize that more and more conservatives are coming to support civil marriage for gay couples because of their conservative values," LaSalvia said.
"We need to talk about how conservative principles are good for everybody, including gay people."
CPAC will be held March 14 to 16 at the Gaylord National Resort & Convention Center at National Harbor.
[Photo: Chris Barron (left) and Jimmy LaSalvia (Credit: Todd Franson/Metro Weekly)]