"This time we're really excited because we get to be in an actual theater," Mara Levi says. The past two years at the Atlas Intersections Festival, Levi's band The Pushovers has performed in the lobby, where they had to watch their volume. "We're a rock band and we like to be loud," she says.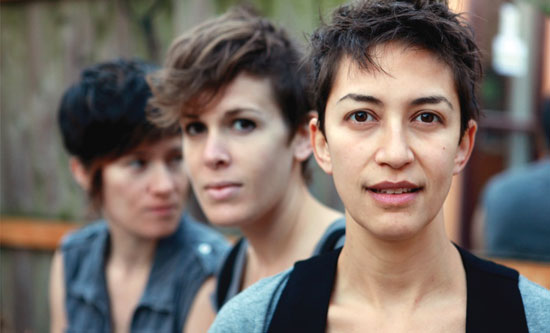 The Pushovers
(Photo by K.K. Ottesen)
So the third time is definitely the charm for The Pushovers, who graduate to a full-fledged show this Saturday, March 9, in the Atlas Performing Arts Center's Lang Theatre. In fact, 2013 is shaping up to be a big one for the sharp trio of Levi, Nancy Eddy and Liz DeRoche. Several years since forming what they call a "smart-pop folk-rock band," the three singer-songwriters have just launched a Kickstarter campaign to raise money for the band's first album, due later this year. A clear sign of The Pushovers' appeal: Just over a week into a month-long campaign, the band is already over $3,500 into its $10,000 Kickstarter goal.
The band's delayed debut is one consequence of the fact that, as Levi puts it, "We're a long-distance band." While all three met while living in D.C., Eddy has since moved to Baltimore and Levi to Brooklyn to be with her wife.
At the Atlas, Levi says, "We're hoping to have some drag queens and other folks do some fun performance-art things with some of the music that we're doing," including "Boy or Girl," the band's It Gets Better Project song, with affirming, cute video.
Levi, who by day teaches high school chorus and musical theater, says the band should sound in top form, too. "We will be very much on top of all of our harmonies and all of our parts because we have been recording feverishly and therefore practicing them over and over and over and over." '
The Pushovers performs Saturday, March 9, at 5:30 p.m., followed by an "Out@Intersections" Happy Hour in the Kogod Lobby. Atlas Performing Arts Center, 1333 H St. NE. Tickets are $10 to $15. Call 202-399-7993 or visit atlasarts.org and intersectionsdc.org.