For loads of gay people throughout the mid-Atlantic region, having a summer share at a house in Rehoboth Beach, Del., is a must. It gets so formal that many houses have names, official logos and even their own websites.
And while we know the most difficult decision when planning a visit to Rehoboth is which bathing suit to pack, the process of securing a share in a beach house can rank right up there with picking between Andrew Christian and Pistol Pete. (And, by the way, the answer is both.) While you're wondering if D.C. may yet see a snowstorm this season, others are already well underway with their plans for a summer at the shore.
The first question is how do you find available shares? The answer is to hit the Internet. The days of the fraternity-style, beach-house rush party has been replaced with Facebook, Craigslist and various other sites your online searching will net for you. Perusing the listings, it shouldn't be too hard to find a share that fits your budget and desired location. But you're just getting started.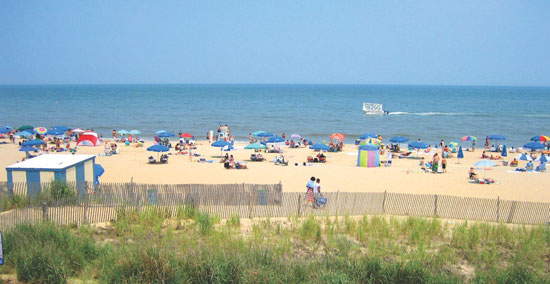 Rehoboth Beach
Mike DeFlavia, a longtime Rehoboth veteran, advises that among the top issues to consider when selecting a possible share is "house rules."
Well-known among the boys of summer for the annual Fourth of July pool party he co-hosts along with his partner and housemates, DeFlavia has been a Rehoboth regular for 13 years. Not surprisingly, he has gained some wisdom about sharing a beach house.
"I knew of a house that had a rule that if a housemate brought a 'friend' home from the bar and that friend stayed long enough to eat breakfast, then that friend became officially a guest," DeFlavia shares. "There would be a $35 guest fee charged, which would make for one expensive bowl of cereal."
DeFlavia recommends that any house you consider have clearly stated rules about guests, pets, parking, chores, smoking, food and liquor.
There is also the question of knowing exactly what you're buying. Are you getting a full share or a half share? Do you have a designated room and bed? How might three-day holiday weekends differ from regular weekends when it comes to the accounting? Are utilities included in the rent? Is the house just for weekends or can you stay during the week? There are plenty of questions you need to have answered before signing on if you want to avoid mid-summer friction that might pop up if you find your housemates and you are not on the same page.
Beyond the rules and logistics, DeFlavia also stresses the issue of picking a house that meshes well with your personality. "If you expect to be out every night until last call at the Blue Moon, you are going to want to make sure that flies with your housemates."
Read more: