"I've done several paintings and have somewhat of an obsession with American Gothic by Grant Wood," says artist Zade Ramsey, who repeatedly traveled to see the famous painting when he was younger.
More recently, he's created a humorous adaptation of the painting, replacing the pitchfork-holding stoic old man with a scheming Montgomery Burns from The Simpsons, and his dignified-looking daughter with an open-mouthed Honey Boo Boo from TLC, called "An Excellent Boo Boo, American Gothic."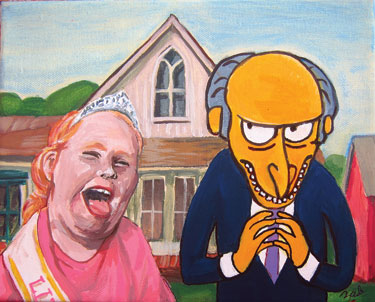 Turn on Your Masters: ZadeRamsey. An Excellent Boo Boo American Gothic
It's just one artwork among many in a show Ramsey's co-curated for Del Ray Artisans, Turn on Your Masters. Artists were invited to "satire their favorite artists," Ramsey explains, and "have fun with some of these classic art pieces." It's satire as high compliment, even homage, and a retread of a popular show that Ramsey curated some 17 years ago for D.C.'s Triangle Artists Group, or TAG. It was a special show, even more so since Alexandria-resident Ramsey met his partner Ali there. So naturally he was intrigued at reprising the theme.
Working with co-curator Drew Cariaso, a gay artist on the Del Ray Artisans board, Ramsey enlisted regular Metro Weekly contributor Scott G. Brooks, one of the artists represented in the original show, to serve this time as judge, selecting the top three from a mixed-media pool of likely 100 pieces of art drawn from a call for entrees. The exhibit opens with a snacks-and-wine reception Friday, April 5, that will also include a performance by a well-known local drag queen, one whose identity won't be revealed beforehand. She'll lip-synch in satire to legendary opera diva Maria Callas
Divas as masters? It definitely sounds like a show curated by gay men. — Doug Rule
Opening reception is Friday, April 5, from 7 to 10 p.m., and exhibit is on display through April 28, at Del Ray Artisans in the Nicholas A. Colasanto Center, 2704 Mount Vernon Ave., Alexandria. Call 703-731-8802 or visit thedelrayartisans.org.