"I would warn Orlando that you're right in the way of some serious hurricanes, and I don't think I'd be waving those flags in God's face if I were you. This is not a message of hate – this is a message of redemption. But a condition like this will bring about the destruction of your nation. It'll bring about terrorist bombs; it'll bring earthquakes, tornadoes and possibly a meteor."
To say that conservative Christian Pat Robertson missed the mark when he made this statement in 1998 in response to the city of Orlando, Florida's support of Gay Days would be a polite understatement.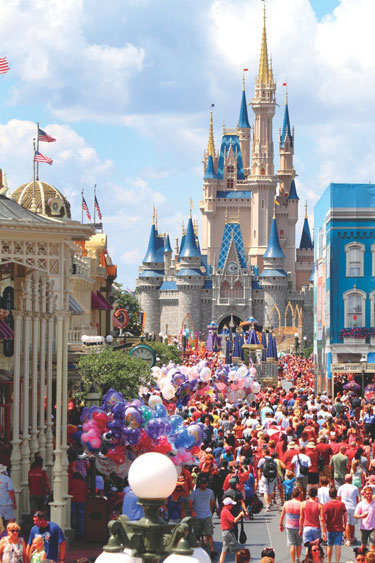 Gay Days Orlando at Disney World
Orlando's love of Gay Days has only grown stronger, as has the gay community's love for Orlando.
What started as a single-day LGBT takeover of Disney's Magic Kingdom has expanded to a week of events held throughout the city, attracting thousands of participants. The benefit to the local economy is estimated at around $150 million.
"It was fabulous to see the sea of people wearing red shirts flooding the Main Street of Magic Kingdom and the other parks," recalls Syrel Fadullon. "I felt welcomed and comfortable. And to me that was amazing and reassuring."
The red shirts that Fadullon describes have been a tradition since the start of the event in 1991, when participants were encouraged to wear red shirts as a sign of unity.
Fadullon has been to Gay Days twice, in 2009 and 2010, and he loved both trips.
"My friends and I spent all of our time being big kids, bouncing around the parks," he says. "Everywhere we looked, we would see others like us mixing perfectly with the other guests."
Of course, there was a time when the union between Gay Days and Disney was not as sweet. During the early years, Disney would place warning signs near the entrances to its parks to alert guests that the gays were around. Now, Disney puts out signs to welcome those patrons who once raised the red flag. With the January announcement that a gay man, George Kalogridis, is the new president of Walt Disney World Resort, there might be some extra Tinker Bell love for Gay Days in the future.
Chris Manley, along with his life and business partner, was involved with organizing the very first Gay Day, and began to formalize and expand the event in 2002. It has become a full-time job and passion.
"We are so lucky that Orlando is the top tourism destination in the county," he says. "And our community is just like other tourists and wants to visit Orlando."