"I remember my dad taking me to the roller-skating rink when I was a kid, and I did have roller blades in college," James Ellzy says when asked about his experience on skates. "I'm very comfortable going backwards in general, and doing a little dance-type stuff."
Yes, he said "a little dance-type stuff." That's what happens when you sign on as the dance and skate captain for the Gay Men's Chorus of Washington and its production of Xanadu, the incredibly campy 2007 Broadway musical written by Douglas Carter Beane with music by the Electric Light Orchestra and Olivia Newton-John. Ellzy, who assisted director Craig Cipollini on the choreography, took partial inspiration from the show and the 1980 cult classic film on which it was based, but was even more inspired by the 1979 film Roller Boogie starring The Exorcist's Linda Blair. And no, Ellzy didn't just happen to remember that throwaway hit from his childhood. "I found it through Netflix," he says, a recommendation after having viewed Xanadu.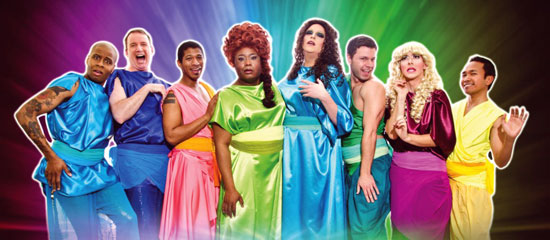 GMCW: Xanadu
(Photo by Julian Vankim)
Originally from Nashville, Tenn., Ellzy says dance "has been my hobby throughout my entire adult life," from stints with companies when he lived in San Diego to the DC Cowboys before they closed up shop last year. Ellzy is also a past president of the San Diego Gay Men's Chorus, a position he held even while a family physician in the Navy. "I've pretty much been out most of my career," says Ellzy, who is in fact still an active-duty Navy doctor.
Of course, now that we're in a post-DADT era, singing and dancing and skating are no longer problematic. Neither is performing in an all-male cast, including a half-dozen drag queens, putting on a show in which one self-aware character quips, "This is like children's theater for 40-year-old gay people."
The Gay Men's Chorus performs Xanadu Friday, March 15, and Saturday, March 16, at 8 p.m., and Sunday, March 17, at 3 p.m. Lisner Auditorium, The George Washington University, 730 21st St. NW. Tickets are $25 to $55. Call 202-293-1548 or visit gmcw.org or lisner.org.