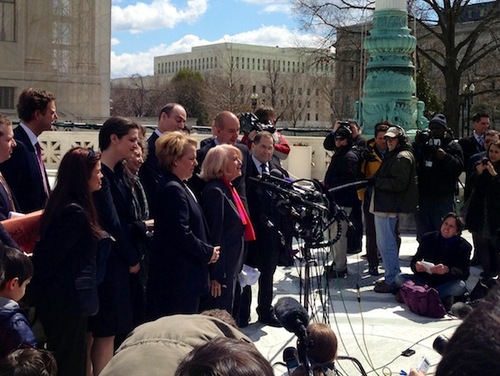 Is DOMA dead? That was the question many were asking after the Supreme Court concluded two hours of oral arguments Wednesday in the case challenging Section 3 of the Defense of Marriage Act. The apparent skepticism of a majority of the justices regarding the 1996 ban on federal recognition of same-sex marriage indicates its days may be numbered.
During questioning of Paul Clement, the lead attorney defending DOMA for the Republican-controlled House Bipartisan Legal Advisory Group (BLAG), Justice Ruth Bader Ginsburg asked what kind of marriage Clement was talking about that would deny more than 1,000 federal rights and benefits to same-sex couples that are enjoyed by straight couples.
"It's pervasive," Ginsburg said of DOMA, adding that it impacts every aspect of life. According to Ginsburg, DOMA creates two classes of marriage: full marriage and "skim milk marriage."
All eyes were also on swing Justice Anthony Kennedy, who, while expressing skepticism to a sweeping ruling in the Proposition 8 case during oral arguments yesterday, appeared poised to argue DOMA should be struck down. Kennedy questioned whether the federal government could impose its own view of marriage when marriage laws have traditionally been decided at the state level. While Kennedy questioned the equal-protection argument put forward by Roberta Kaplan, the lawyer for 83-year-old plaintiff Edith Windsor, he appeared more inclined to agree with the federalism argument that DOMA is an overreach of federal power.
"Section 3 of DOMA is stopping the recognition by the Federal Government of couples who are already married, solely based on their sexual orientation, and what it's doing is undermining, as you can see in the briefs of the States of New York and others, it's undermining the policy decisions made by those States that have permitted gay couples to marry," Kaplan said.
Chief Justice John Roberts also questioned an argument put forward by U.S. Solicitor General Donald Verrilli and Kaplan that the case should be treated with "heightened scrutiny." Due to the history of discrimination faced by gay people, DOMA opponents argued the law should be found unconstitutional. Heightened scrutiny is generally used to evaluate laws that classify people based on race, gender or religion.
However, Roberts echoed an argument that has been made in briefs filed by DOMA supporters that the gay-rights lobby has immense political power, as demonstrated by the "sea change" in public opinion and the number of politicians "falling over themselves" to announce their support for same-sex marriage.
The liberal wing of the court, however, appeared to agree that DOMA violates the equal protection clause of the Constitution. "You're treating these married couples different," Justice Sonia Sotomayor said during questioning of Clement.
Quoting from the the House Report from when DOMA was passed in 1996, Justice Elena Kagan questioned Clement's argument that DOMA was passed simply to provide uniformity to the law in order to prevent certain states from recognizing same-sex marriage while others do not.
"Do we really think that Congress was doing this for uniformity reasons, or do we think that Congress's judgment was infected by dislike, by fear, by animus, and so forth?" Kagan asked.
Although a majority of the justices appeared to agree that DOMA was too far-reaching, they had many questions on the jurisdiction issues surrounding the case, in particular what authority the Obama administration had in February 2010 when the Justice Department declared DOMA unconstitutional.
"If he has made a determination that executing the law by enforcing the terms is unconstitutional, I don't see why he doesn't have the courage of his convictions and execute not only the statute, but do it consistent with his view of the Constitution, rather than saying, oh, we'll wait till the Supreme Court tells us we have no choice," Roberts said of Obama.
During 50 minutes of arguments, the justices weighed whether they have the authority to hear the case to begin with because of the unusual nature by which it finds itself before the high court. Although Windsor sued the government, the government is now testifying on her behalf as the House defends DOMA. Moreover, the government appealed the decision despite winning in the lower courts. Harvard law professor Vicki Jackson, who was recruited by the court to address these questions, argued the court should not hear the case.
"This is totally unprecedented. You're asking us to do something we have never done before to reach the issue in this case," Roberts said to Deputy Solicitor General Sri Srinivasan.
United States v. Windsor surrounds 83-year-old Edith Windsor, who is suing to recoup about $363,000, the federal estate tax she was forced to pay on her "inheritance" following the death of her wife, Thea Spyer. The federal government does not tax wealth that passes to a surviving heterosexual spouse. Because of DOMA, however, the federal government has refused to recognize Windsor and Spyer's 2007 Canadian marriage license. A district court and the Second Circuit Court of Appeals have both found DOMA unconstitutional.
Speaking to reporters outside as a crowd of supporters chanted "Edie! Edie!" Windsor broke from a prepared statement to speak to what marriage means to her.
"It's a magic word," Windsor said of marriage. "For anybody who doesn't understand why we want it and why we need it, it is magic."
Today's arguments conclude two historic days that for the first time saw the issue of same-sex marriage before the nation's highest court. The nine Supreme Court justices will meet later this week to decide how they will rule in the DOMA and Proposition 8 cases. A verdict in the two cases is not expected to be issued until June.
[Photo: Edie Windsor speaks to reporters outside the Supreme Court building (Credit: Justin Snow/Metro Weekly)]