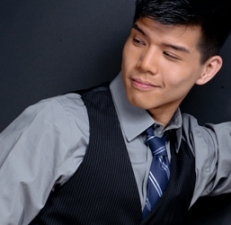 "The cool thing about being famous is traveling. I have always wanted to travel across seas, like to Canada and stuff."
While Britney Spears demonstrated that she needed some geography lessons when she spoke these words, she was competely on the mark about traveling. The ability to discover new places, people and experiences can be very cool. It can also be inspiring.
New York may be home for actor and singer Telly Leung, but he has had to crisscross the country for his craft, performing in theaters from Pittsburgh to Sacramento, Calif., and from New York City to Rehoboth Beach, Del. Some of his most recent travel was for Allegiance, a new musical that had its world-premiere run in San Diego and may soon be heading to New York for a Broaday debut.
"I feel like I'm a gypsy sometimes – just living out of a suitcase," says Leung, who, in addition to his Broadway credits that include Rent and Godspell, had a recurring role on the hit television show Glee.
Leung is using his experience as a traveler for a new show, set for April 14 at New York City's 54 Below. In it, he'll be sharing stories from the road and performing songs from his debut solo album, I'll Cover You, which pays tribute to artists such as John Denver, Miles Davis and Billy Joel. "I have 70s parents that exposed me to various music, and I will be sharing that with the audience," he says.
A limited number of tickets to Leung's show are still available. His previous performance at 54 Below in December 2012 sold out.