Family is defined in many ways. It's a couple with kids, a couple without, maybe some pets, or maybe a network of friends who are there for you no matter what. My husband Steve and I are a family that consists of our two dogs and a cat, and we are looking forward to one day having children. So we were especially pleased to see Sen. Rob Portman tell the people of Ohio – and, yes, the world – that our family matters too.
Steve serves this country bravely as a major in the Army Reserves, something that is an ever-present backdrop in our lives. When Steve was in Iraq in 2011, I faced many realities: He may be killed, he may be injured, that the Steve who returns may be scarred in ways I cannot see or ever understand, and that the Steve I knew may not be who returns to our home, if at all.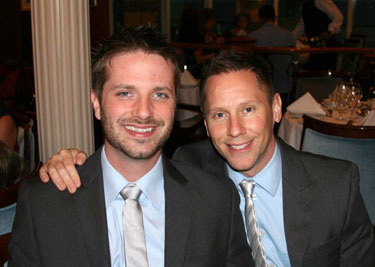 Joshua (Left) and Maj. Steve Snyder-Hill
(Photo courtesy OutServe-SLDN)
Sadly, had any of that happened, as a same-sex spouse I would not have qualified for certain survivor's benefits; there's no guarantee that I would have been the first to know; there would not have been counseling services for me; and I would not even be assured that his body would be released to me and that I could be the one to lead funeral arrangements for the man I am married to.
Sen. Portman's break with many in the Republican Party who have opposed our equality gives me hope, though, that this country is changing. His brave change of position on the freedom to marry inspires me and I know brings me closer to a day when I can prepare my family for the realities of war and not explain why our family isn't recognized.
I won't sacrifice our dream of a fully recognized family because of the intolerance or bigotry of others. There may always be a few who don't believe in equality. But Sen. Portman's position on marriage is paving the way for others like him to change their minds and will eventually bring us to a place of full equality.
My family wanted so many things for me when I was a kid – to a get a good education, a good job, a house, to marry someone I love and have kids of my own. Those are my dreams, too, and Sen. Portman has brought me a little closer to feeling like I can achieve them.
Joshua Snyder-Hill lives in Columbus, Ohio, with his husband, Maj. Steve Snyder-Hill. The two are plaintiffs in OutServe-SLDN's federal court challenge to the so-called Defense of Marriage Act (DOMA).