Nearly 10 years ago comic Suzanne Westenhoefer told Metro Weekly she had quit smoking, in part because of the Mautner Project.
"I'm not going to say it was the exact reason I quit," she said at the time, "but it sure as hell helps things along to have a thousand women staring at you like you're a leper."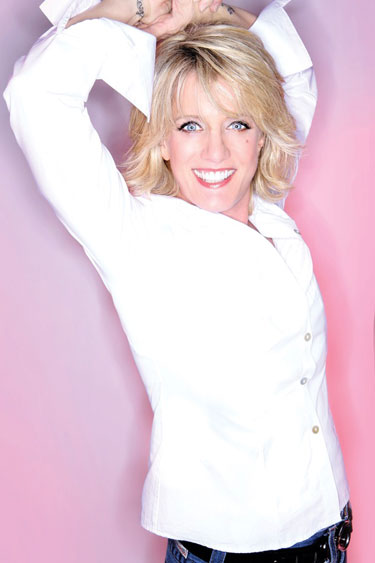 Suzanne Westenhoefer
(Photo by Adam Bouska)
Turns out Westenhoefer has been affiliated with Mautner for most of her 33-plus-year career as a comedian. And, it's worth pointing out, Westenhoefer has never once shied away from being open and honest as a lesbian. She was out many years before Rosie O'Donnell and Ellen DeGeneres mustered similar resolve, to great hoopla. Soon after the small-town Pennsylvania native started as a standup comedian in 1990, Mautner came calling. "It was just like this awesome fit," says Westenhoefer. "Like, I'm not just another comic here to help you guys raise money; I'm a comic here to help you raise money and I actually care about this. This actually matters to me."
This Saturday, March 9, Westenhoefer returns once again to host and perform at the organization's Spring Gala. When asked a week prior if she remains a nonsmoker, she responds, "There will be discussion of that. I can't give it away."
The 51-year-old Westenhoefer, friendly and funny to her bones, will also share other personal health issues and concerns, as well as discuss her experiences helping friends and relatives with cancer. "I found out the hard way, while going to chemo with someone, that I can actually make chemo patients laugh," Westenhoefer says, quickly adding, "It's not something that I suggest that you try on your own. It could backfire pretty badly."
As with so many things, better to leave the laughs to a professional.
METRO WEEKLY: How many times have you done the Mautner Project Gala?
SUZANNE WESTENHOEFER: The Gay-la? I honestly don't know. I think I've hosted it four times.
MW: Obviously it means a lot to you.
WESTENHOEFER: It does actually. Women's stuff – oh, I'm one of those feminists.
MW: Has your involvement with Mautner influenced your behavior aside from smoking?
WESTENHOEFER: I've always been one of those obnoxious women who are telling lesbians that they have to get their Pap smears and all that. Just because you don't have sex with men doesn't mean you won't get diseases and blah-blah-blah-blah-blah. So, I'm a supporter. That's my thing! I've taken more women to get Pap smears – that sounds really [crazy], when I hear it out loud like that. [Laughs.]
MW: Cancer remains a huge concern for women's health. But over the decades and the time you've been involved with Mautner, what else would you say has become a hot-button issue?
WESTENHOEFER: Weight. Weight. I have to say weight. Eating badly. Just weight. That's not just women. That's not ethnic. That's not poor, that's not rich. And it's my problem, too. I struggle with it as much as anybody. You can't give in to it. And there have been studies done, and I know that it's true that lesbians, especially, struggle with weight issues. And we just can't [avoid it], because it makes every other issue bad. And it's a pain, and I hate talking about it, 'cause I'm not one of those people who's like, "Everybody needs to be rail-thin." And I'm not one of those people who says, "Not only do you need to be thin, you need to be fit," and all this other stuff. But we can't let this obesity thing take over. I'm sad when I see 13-year-old and 10-year-old kids who are morbidly obese. It's like, No! That can't be! So I would say that's one of the biggest health issues.
But, as of yet, I have found no jokes about it. Not saying I'm not working on it, I'm just saying, because I still struggle with it so much myself, it's just not funny yet.
MW: So you haven't figured out a way to make it funny?
WESTENHOEFER: Not yet. Not that I'm not trying. Just saying that, having struggled my whole life just to keep the 10 pounds off, 20 pounds off, watching other people struggle with it, it's such an ugly problem. Like, you can smoke your whole life and not get cancer. That's the horrible truth about that. You can quit smoking and never smoke and you get cancer. But we can't go without food. And we're really struggling with that. That's a very big issue. Not working out, not taking care of ourselves, not – it's not just anybody, it's everyone. It's me! I mean, I get up some mornings and I think, "Oh, I would rather club baby seals to death than to get on this treadmill." There! My first weight joke!
MW: I take it you work out in the morning?
WESTENHOEFER: That's when I usually do it, yeah. If I work out at all – because I've also really struggled with a lot of [health issues]. I have degenerative disc disease in all of my disks! Ta-dah! I've had four surgeries, and two fusions, in the last five years. I make a really, really loud noise when I get up off the floor now. [Laughs.]
MW: Does exercise help?
WESTENHOEFER: Yeah, it does. But it's a lot harder now.
MW: What can you do to keep that from getting worse?
WESTENHOEFER: Exercise more – but I hate it! I'm like everyone else. Once you get to be 40, I think we all are just like, seriously? Why do I have to exercise anymore? I believe it was Kate Clinton, but I can't remember – some female comedian that I love dearly once said onstage, "When I am 75, I'm going to eat a Big Mac while snorting heroin! And light a cigarette right after." And I know exactly how she feels. I've never wanted to do heroin, I've never done heroin. I don't eat Big Macs. But, I'm just so tired of that constant: What am I eating? What am I not eating? What am I putting in my system? Am I working out, am I not working out? Blech! Can't I just take a nap and watch a marathon of SVU? [Laughs.]