Whether we're twink or bear, gaybro or drag queen, lipstick or butch, we all share one cultural touchstone: coming out. While the concept has been co-opted — some frivolous, like furries, some important, like undocumented immigrants — it remains the unique core of the LGBT experience.
It's perhaps clichéd at this point to mention, but it is worth restating just how different this makes us when it comes to civil rights. We sometimes compare our own struggles to those of racial and ethnic minorities, which is fair enough in some broad ways but misses the key difference: It's an exceedingly rare thing for someone to have to come out to their family as black or Latino or Asian. We're a minority that grows up isolated from others like us, and unsure of whether our families will still love us when they find out we're different.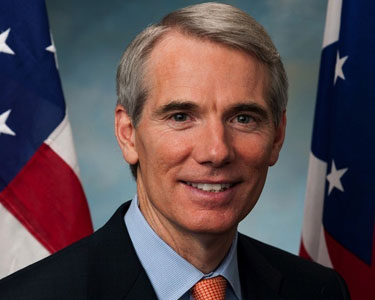 Change of heart: Sen. Rob Portman (R-Ohio)
(Photo by File photo)
This is changing as more children grow up within families that have out LGBT parents, siblings and cousins. But for many of us who came out to our families over the past few decades some scars remain, some less healed than others.
When Sen. Rob Portman (R-Ohio) publicly changed his position on marriage equality last week because his son, Will, had come out to him two years ago, those old wounds re-opened for many of us. With every round of applause for Portman becoming the first Republican senator to support marriage rights, there were equal condemnations for his only changing his mind when it affected his own family.
I get where this comes from. My relationship with my own father is what we call "complicated." My coming out in the late '80s was no surprise to my mother, but my dad wanted to think it was a phase or something I caught from one of my college professors. My career path has been somewhat divergent from what he'd hoped.
No matter how wonderful coming out has been for my life, that still hurts. It makes it hard to watch politicians who've voted against us suddenly see the light. But as I posted on Twitter during the back-and-forth on Portman, he learned his son is gay two years ago and now supports marriage; 25 years later, my father still doesn't.
We've come so far in changing minds about our lives that the people who remain are the ones whose minds will be hardest to change. Greeting new allies with a raspberry and "too little, too late" will only make it harder. The most important time to be welcoming is when it's the most difficult.
And I have to point out that, despite any pain both of us may carry, I love my dad. As much as I may complain about his lack of change on my being gay, I can't forget that in the middle of 1970s rural Kentucky — where Jim Crow was still a fresh memory — he and my mom raised us to treat black people with respect. That sounds easy from the comfort of today, but it wasn't then. I was lucky to have the parents I did.
Will Portman is a lucky son. I imagine coming out to a father who's voted for anti-gay legislation wasn't easy. But in doing so he not only gained a father who loves him for who he is, he set off a chain of events in the Republican party that moves us much closer to where we know we're headed: equality.
Sean Bugg is the co-publisher of Metro Weekly. He can be reached at sbugg@MetroWeekly.com. Follow him on Twitter @sbugg.