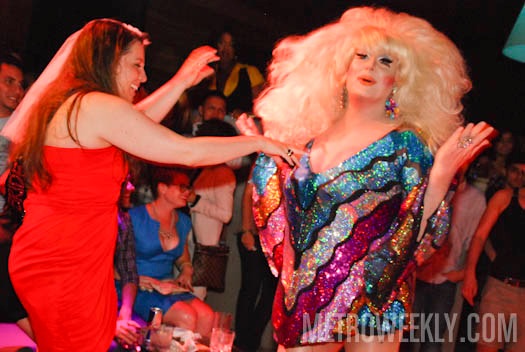 L'Enfant Cafe reprises SpeakEasy, its popular, select Sundays social dining and cabaret shows tonight, Sunday, March 3, with two singing drag queens from New York: the incredibly funny Lady Bunny, Wigstock founder and "Dean of Drag" on RuPaul's Drag U, and Flotilla DeBarge, the "Empress of Large." Expect to be in stitches. L'Enfant Cafe and Bar is at 2000 18th St. NW. Reservations are required; cost is $50 for the 7 p.m. dinner show, or $15 cover and a two-drink minimum for the 10:30 p.m. late show. Call 202-319-1800 or visit lenfantcafe.com.
Watch the L'Enfant Cafe Foodwise video, featuring Chef Leo Morales making an easy and delicious Pan-Seared Trout with Eggplant Ratatouille!
Join our new Foodwise list — get recipes and cooking videos directly to your inbox! Click here to sign up now!
Lady Bunny photographed at Town Danceboutique for Metro Weekly by Ward Morrison.