Forget the launch debacle, which has cast a dark cloud of incompetency over Electronic Arts, SimCity is a great game. EA's server woes, and subsequent upgrading issues, have been widely reported, and in the process have damaged the reputation of one of gaming's most ubiquitous franchises. However, SimCity is not without its own design flaws, and what could have been an incredible return for the venerable social-simulation powerhouse, has instead turned into a rain-soaked parade of misjudged features, quirky design elements, and moments of gleaming brilliance.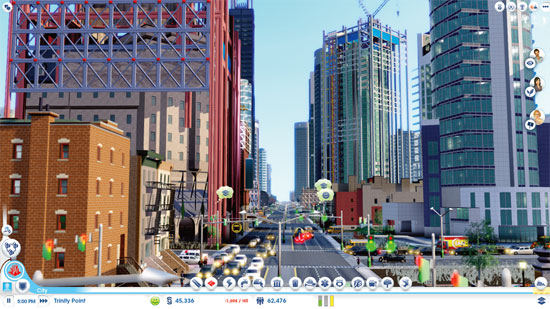 SimCity
SimCity throws out several things from past games, the most striking being its looks. Gone are the cartoonish graphics of yesteryear, and in comes an aesthetic that can be simply described as astonishing. SimCity is gorgeous, with a design that takes strong cues from The Sims 3. Indeed, zoom in on an individual property, and it'd be easy to mistake it for a distant shot of a building in EA's other franchise. The look carries over to every aspect of the game: skyscrapers gleam in the morning sun, casting dark shadows over their neighborhood, factories belch out thick clouds of smoke and pollution, roads clog with traffic as Sims go about their daily business, oil wells churn and pump as they suck up the earth's content, the grade school kids throng in the yard, playing games and running after each other. Zoom out, and the city lives and breathes, as traffic darts through the veins of streets, wind blows pollution between the buildings, water flows, windmills turn, buildings illuminate at night, fires left unattended grow from tiny smokestacks into raging infernos, trash builds up outside residences and buildings crumble as they are demolished. SimCity is crammed with a seemingly infinite number of things to see, with every building granted its own graphical idiosyncrasies, and it all gelling into one cohesive, constantly delighting whole. I took great pleasure in flying around my city, watching as skyscrapers were constructed, following an ambulance through the streets as it sought out sick patients, and seeing residents flock to new neighbourhoods, moving their lives into the buildings awaiting them.
SimCity backs up its astonishing detail with rich, immersive sound. Fires crackle, cars honk and rev. Sims gossip with each other at bus stops. Factories thrum with the sounds of heavy industry. Commercial districts come alive with telephones, cash registers, computer sounds and paperwork being busily filed. Residential zones are harmonious with children playing, meals being cooked, families playing in parks and all of the minutia and details of daily life. It's a glorious soundtrack — all backed with simple, effective music that never becomes overbearing — and helps inject your cities with that extra dose of realism. Click on a hospital, and listen to patients coughing, heart-monitors beeping and doctors gibbering in frantic Simlish as they rush to save a patient — it's intoxicating in its realism.
The detail in its design and sound is carried over to gameplay, as SimCity has been streamlined, without losing any of its depth. Again, The Sims has played a heavy part in influencing its menu design, but this is a good thing. The level of content accessible, from budget controls with individual spending reports and taxation levels, to detailed analysis of the residents' happiness and desires, to the pollution levels, including sources and impacts on health and wellbeing — there's a lot to study, analyze and make decisions based on the evidence presented. For experienced players, it's possible to sink hours into micromanaging all of the aspects of gameplay, from maximizing power efficiency, to ensuring a better flow of sewage to treatment plants, and decluttering neighborhoods to promote growth and higher population density.
Click on any building or Sim, and each will display the wants and needs of the person, people or business. Buildings can be edited, adding new features such as an extra bus for picking up school children, an extra wing for the hospital, or a new helipad for City Hall to help you, the mayor, arrive in the style you deserve. I wasted hours of gameplay adding signs to each building I constructed — they serve no purpose, and at 200 Simoleans each, offer no return, but they were another interesting addition that added depth to my city.
That's what SimCity does best — it draws you in, bringing a desire to make your city your own. I crafted Randy Falls — my personal city, and a nod to our editor — to be a bastion of middle class wealth and a commerce-driven economic powerhouse. I used clean power, first wind, then solar once I could afford it. I kept taxes low, to ensure the citizens refrained from rioting outside City Hall, as they are worryingly prone to doing. I upgraded the land value of my city through strategically placed parks, and kept density high by upgrading roads when I could to ensure that bigger and better buildings could be constructed without sacrificing traffic management. When poorer neighbourhoods refused to upgrade, or complained about issues or jobs, I demolished them, and ushered in middle- and high-wealth inhabitants instead. When low-tech industry started to negatively impact air-pollution, I turned the offending factories to dust, and allowed gleaming skyscrapers and malls to grow in their place. The sense of power of having dictatorial control over my Sims' lives, the god-like aspect of micromanagement — it's easy to see why we have so many despotic regimes around the globe.
Watching your city change, and grow, is incredible — right up until you hit your city's boundary, and this is where SimCity's gaping flaws start to creep in. When you first start playing, you likely won't be planning for your city when it's a huge metropolis — instead you'll design it to meet your needs, and expand it as your budget and population grow. In later stages, though, this is crippling, as SimCity imposes an almost unfair restriction on users in terms of the space allowed for each city. The large, square boundary can seem generous at the start, but is quickly reached and filled. Too often I would gain access to a sports stadium, or nuclear power station, or additional university building, and have nowhere to put it. SimCity forces you to constantly bulldoze roads and buildings, changing the layout of your city to fit the needs of its ever-growing population, and while this is necessary, it's also frustrating. I don't want to remove one of the numerous skyscrapers I marveled at, just so my people can learn business at university — but better business acumen leads to greater profits citywide, and I want it, so good-bye skyscraper. It's an unwelcome compromise, and it stems from the other aspect of SimCity I find unnecessary — regions.
Regions are just that, areas with between three and 16 potential city plots, which users can claim and build networked cities, with each feeding and reacting to the other. In theory, it's incredible — a user can specialize one city in industry, with workers from others commuting there and not caring about the high pollution. Another city can be a tourist haven, with casinos and stadiums and concert halls. A third could be entirely residential and commercial, representing the best in living and shopping. They all could be powered by a city purely focused on utilities, producing power and pumping water and dealing with waste produced by the others. It's an incredible idea, and offers a lot of creativity to users for further micromanagement — but what if you don't want that? Tough. You may want just one übercity, but you can't have it.
What you can have instead are friends in your game. Again, an interesting theory, as you and several friends can each have a city in a region and compete with each other, or work together to better the region. Nice thought, but what if one friend suffers a catastrophic disaster — such as meteor strike or zombie outbreak, and they were supplying power to your region? Or, if you choose to play on an open server with strangers, which is possible, what if your city is disease and crime-free, but a neighbor has a sick, uneducated, criminal-driven city — whose inhabitants are all-too-eager to come and infect and burgle and kill your citizens?
Of course, this is all required, as SimCity is online-only. EA's efforts to stem piracy have led to SimCity needing a constant Internet connection to work — and, really, certain gamers have themselves to blame for this decision, as EA is quite right to wish to protect their property from the rampant piracy of games. However, every time I've tried to jump into my region for a quick play session at work or before bed, I've been faced with a wait as SimCity updates itself and its servers. It's annoying — very annoying — and something that could be skipped if I were playing the game on my PC without an Internet connection, but that would require Randy Falls to be saved to my PC, which it isn't. In SimCity, everything is saved to the cloud, and this removes another of SimCity's features — and arguably the most enjoyable — that of being able to wreak havoc with fires, tornadoes, meteor strikes, alien invasion, tsunamis, zombies and more, and then rolling back to a prior save and carrying on as normal. Not anymore, and it's a sorely missed option, and one that smacks of compromise.
SIMCITY



and one half
EA/Maxis
Digital download
or CD
$59.99
Deluxe Download
$79.99
www.simcity.com
That's really the theme of SimCity: compromise. Have a gorgeous game, with incredible detail and rich, involving sound, but confine it to a claustrophobic area. Give users the tools to build the city they want, but only to a point. Allow control of multiple cities, but at the expense of each individual city. Include multiplayer, but require a constant Internet connection even in single-player. Allow play with friends and strangers, but be at the mercy of their decisions. Keep disasters in the game, but remove the fun of being able to abuse your city with them and then undo it. Underneath it all, however, is an inherently sound game. I will continue to sink hours into SimCity, as I obsess over increasing my population, marvel at the little graphical details, aim to increase the wealth of my government and my citizens, and fight the aftereffects of the accidental nuclear meltdown I had when unskilled workers were allowed to work at the nuclear power station — a lesson very painfully (for citizens living nearby, anyway) learned. SimCity isn't broken, it isn't bad. It just could have been so much more than it is. Now excuse me, I need to go — there's a huge concert happening, and I don't think my mass-transit system can cope.
SimCity is available as either a physical disk or direct download for $59.99, or in a "digital deluxe" edition, which includes a heroes and villains set and French, German and British city sets, for $79.99 at simcity.com.