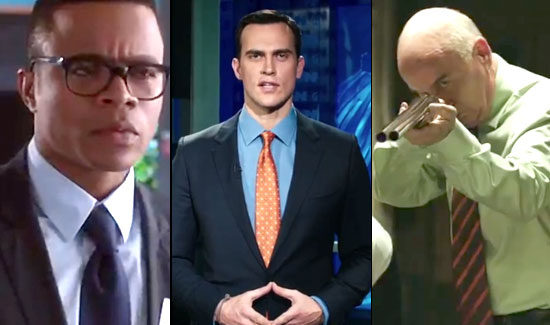 UPDATE: Amazon announced at the end of May 2013 that it had chosen five shows to develop for it's original series — Alpha House and Betas were the two winners from this group, plus three kids shows — Creative Galaxy, Annebots, and Tumbleaf.
Had your fill of TV talent competitions? Your YouTube player is too choppy to bear? Well, there are new, alternative programs emerging from Amazon, Hulu, Netflix and others. Some are quite appealing, and many contain a mixed bag of LGBT personalities and references. Here's a first reaction to these promising presentations.
Netflix Originals
The most widely publicized of these streaming productions is Netflix's House of Cards. The show does contain one fleeting gay reference, and also features actor Kevin Spacey (who may or may not be gay in real life) as a powerful Capitol Hill Democrat wrapped up in scandal. Netflix also released a horror-thriller series this month entitled Hemlock Grove; and according to reports, a sci-fi series called Sense 8 is being written by the Wachowskis. A fourth show, Orange is the New Black, will be set in a women's prison. IMDB lists Lea DeLaria and Laverne Cox as recurring cast members; and the third episode, called "Lesbian Request Denied," has Jodie Foster as its director. Of course, Netflix's ace in the hole is Arrested Development, with the dysfunctional Bluth family returning for 15 new episodes, releasing simultaneously on May 26. Among the returning original cast, Portia de Rossi, wife of Ellen Degeneres. Let the Bluth binge watching commence!
Amazon Originals
Meanwhile, Amazon.com just released its first eight pilot episodes. Some of the programs are quite appealing, though all seem to contain "graphic content" for adults. These first 22-minute programs are free for all to enjoy over the next few weeks. Amazon is also asking for viewers to help decide which shows should get funding for future play.
Four Republicans share a Capitol Hill townhouse. John Goodman, Clark Johnson, Mark Consuelos, Matt Malloy star alongside D.C.'s majestic landmarks in this subtle, dark comedy. Goodman is excellent as overly confident Senator Gil John Biggs. Malloy plays Louis Laffer, a senator from Nevada, who seems to have an image problem. People insinuate that he is a homosexual even though he has a stellar anti-gay record and uses blatantly homophobic language. Alpha House was created by Garry Trudeau of Doonesbury fame. It has intriguing potential.
Call it Huffington Post meets Glee. Four interns are hired by a viral news empire run by Bebe Neuwirth. The characters regularly launch into goofy songs and fantasy sequences to explain their inner thoughts. One of the four featured interns is a black, gay man (Marque Richardson), whose position is quickly complicated after a run in with an Ann Coulter-type shrew. Expect lots of references to tweeting and social media. Neuwirth's solo number is great but she needs to tweak her Arianna-esque accent and play-up her aura of power. Otherwise, Browsers might be fun for a season's worth of analysis about media, trends and topical news. The music isn't spectacular, but it is cute in an off-Broadway style, and it's free to download at Amazon.com.
Think HBO's Newsroom infused with the ridiculous charm of The Onion. You'll need to be able to keep up with rapid-fire jokes in order to fully enjoy this satire's absurdity. Cheyenne Jackson plays one of the network's lead news anchors who competes with an older colleague, Jeffrey Tambor, for status and recognition. Christopher Masterson is the naieve new guy who learns a lesson about reporting on corporate sponsors. From start to finish, The Onion's Empire is very funny.
B.A.P.S. meets Scooby Doo. Two sassy women go on an Indiana Jones-style mission to supplement their shopping mall incomes, unwittingly let loose an explosion of demons into the world, then fight to make it right. This animated gem is quite funny at times. There's nothing particularly gay in the first episode, except maybe a cranky crystal skull that reads everyone in sight. This ought to get Amazon's green light.
Imagine Big Bang Theory as if it were directed by Judd Apatow. Four male programmers seek Silicon Valley funding for their social dating app. It's all very now with lots of cell phone technology, lots of white boards, and lots of men interacting awkwardly with self-confident women. Zooming Google maps serve as nifty transitions between settings. The seemingly autistic programmer, Nash (Karan Soni), pretty much steals all of his scenes. And the thirtysomething character, Hobbes, serves as the show's uninhibited-man-who-never-grew-up, a near duplicate of Zach Galifianakis' characters in both personality and appearance. If it serves insight into the lifestyles of web developers without becoming another nerdy sex comedy, it might have something unique going on.
Three male teachers exact their revenge on the school's most annoying jock. Comedy often relies on exaggerated characters and situations, but the show's implausible antics, raunchy dialog and rather shaky camera work seem to be particularly dumb. Those Who Can't lies somewhere between Reno 911 and The Office — just not as funny. Perhaps it's the anti-gay insults used at the beginning that clouds the overall experience. The leads seem way too similar and the situations do not really ignite in their importance. These teachers don't seem to care much about their jobs, so the audience may not either.
A sci-fi comedy about two guys who work aboard a space warship. This is an early preview that combines an illustrated animatic with snippets of the final stop-motion animations. The 3-D samples look super, but the story relies too much on mundane banter about space destinations and space drugs. It doesn't add up to much, and is kind of like Futurama but without any adorable oddballs.
A lighthearted look at how a group of survivors spend their days blasting away zombies that spoil their social lives. If you saw the movie of the same name, you'll notice this version feels like a sitcom. The pilot plays more like an episode of The Middle than it does The Walking Dead. The principal characters are snarky and don't have any defining moments this time around. There's also an OnStar angel who helps to guide the group toward other survivors, but pop-up "tips" do not really add to this adventure. The storyline finally does pick up toward the end when an element of danger knocks some of the aloofness out of the clan.
The generous usage of technology and buzzwords in these shows makes them an appropriate part of this current broadcasting innovation. Will Amazon's investment pay off in the long run? It'll be interesting to watch how much the company commits to developing the programs as Amazon emerges as an entertainment empire… or doesn't.