What you see in the above image is Boeing's latest design study, a concept for an airliner that can travel at speeds greater than sound. In the teasing image, the plane can be seen in its wind tunnel, where Boeing is currently working through its design to achieve something many have been clamoring for — a new Concorde.
Concorde (right) is one of humanity's greatest technical feats. The world's first supersonic airline, capable of crossing continents and oceans at more than twice the speed of sound, was a marvel of engineering. Traveling at Mach 2.04, or 1,354mph, it was the first airliner with a fly-by-wire system (wherein the controls are not directly linked to the aircraft's flaps — instead, they were electronically controlled), had its iconic droop-nose, which automatically lowered to enable better visibility at takeoff and landing and when taxiing, and used reheat afterburners at takeoff to pass through the sound barrier — in the same way as supersonic fighter jets.
That Concorde was able to travel halfway around the world at speeds double that of today's aircraft is remarkable, given its launch by British Airways and Air France — after being jointly developed by their respective nations — in the distant days of 1969. It wasn't trouble-free, proving costly to run, and subject to numerous noise complaints given its distinctive "sonic boom," the noise generated as air passed over its surfaces as Concorde broke the sound barrier, which in later years limited its journeys to transatlantic routes where the open ocean would be undisturbed by its supersonic soundtrack.
The infamous Air France crash of 2000, in which a Concorde plowed into a hotel shortly after take-off, killing all 100 passengers and 9 crew, was a nail in a coffin many had been predicting would need to be made, given rising costs and reduced passenger numbers. The crash was not the fault of Concorde, which, until that day, was the safest airliner in the world, but it ruined its reputation. Passenger numbers fell further, and, matched with rising oil prices and increasingly budget-orientated passengers, British Airways and Air France retired the fleet in 2003.
It remains one of my biggest regrets in life, that I was never able to fly on Concorde. Its retirement, after more than 30 years, was a black mark on the technological landscape of our planet. Air travel jumped back three decades, and the crossing time between London and New York soared from 3.5 to 7.5 hours. Gone were the days when a passenger could leave Britain at 12pm (GST) and arrive in the USA an hour and a half earlier (10:30 EST).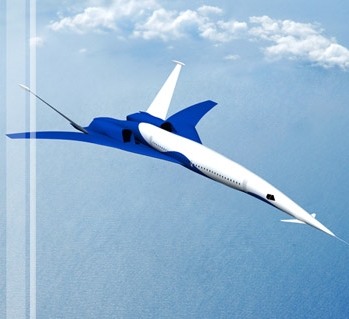 This makes the latest reveal from Boeing and NASA something truly special. At NASA's Cleveland, Ohio, research facility, the two companies are working to design a supersonic airliner for the modern age — one without the expense and noise of Concorde. Through advanced aerodynamics, and many hours spent in a wind tunnel, the team are striving to create a supersonic airliner that lacks the signature sonic boom associated with breaking the sound barrier. A V-shaped wing design helps to direct the airflow around the plane further away from its body, reducing the effects of the boom by forcing it to stay in the air longer, offering greater time to dissipate before it reaches the ground. Engines placed on top of wings shield sound from being directed at the ground, which should not only help during takeoff, but in flight as well.
Boeing and NASA are aiming for production airliners that can travel at supersonic speeds from shortly after take-off until near landing, without the signature sonic boom that earned Concorde its ban from achieving speeds greater than sound over land. It's still a long way off, with Boeing's designs aiming for commercial viability in at least two decades' time, but it's a scintillating glimpse of a future of air travel that finally catches up with a past we relegated to retirement.