Prominent gay rights activist and former Army Lt. Dan Choi has filed notice with the U.S. District Court for the District of Columbia that he will be appealing his conviction on a charge of failing to obey the lawful order of a government employee or agent.
At Choi's trial on March 28, Magistrate Judge John M. Facciola found Choi guilty and fined him $100. At the time, Choi told Facciola he was refusing to pay the fine. But Choi's guilty verdict came after a nearly three-year struggle in the courts – including a 19-month delay on the part of government prosecutors – following his arrest for chaining himself to the White House Fence during a 2010 protest against the military's anti-gay "Don't Ask, Don't Tell" (DADT) policy, under which Choi had been discharged from the military.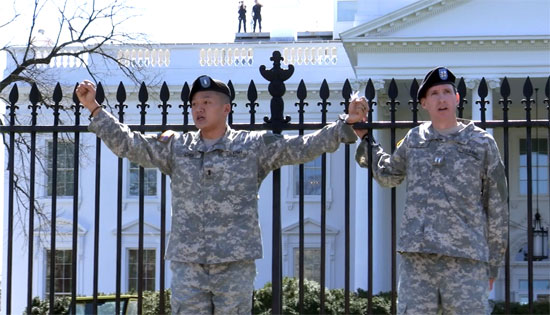 Dan Choi (left) with James Pietrangelo II, outside The White House in 2010.
(Photo by JD Uy)
In his April 5 filing, Choi said he would appeal Facciola's verdict – and all related rulings leading up to his conviction – as well as a writ of mandamus issued by Chief Judge Royce C. Lamberth, the U.S. District judge for the District of Columbia, which had ordered Facciola not to take into account whether prosecutors had engaged in selective or vindictive prosecution because Choi is gay and was protesting, in full military uniform, the now-defunct DADT policy.
Facciola had previously found there was possible evidence that the government may have engaged in selective or vindictive prosecution based on the content of Choi's exercise of free assembly and free speech. Had Facciola been able to allow Choi's lawyers to pursue that as a line of defense, Choi's lawyers would have been able to ask the government to provide more evidence of investigating whether higher-level officials advised subordinates to single out Choi by trying him in federal court instead of in D.C. Superior Court.
Choi was arrested two prior times for chaining himself to the White House fence and charged in D.C. Superior Court, but those charges were dropped after the D.C. attorney general's office determined that the ledge on which Choi and his fellow protesters had been standing when chained to the fence did not constitute part of the sidewalk.
While Choi defended himself at trial, his fellow arrestee and legal advisor, former Army Capt. James Pietrangelo II, filed an amicus curae brief March 28 that outlined multiple legal rationales for why Choi should be acquitted of the charges.
Since Choi's conviction, at least 20 of Choi's friends, acquaintances, fellow military members and fellow activists have written letters asking the court to overturn Choi's guilty verdict. Choi sent an email to supporters April 8 telling them about the status of his appeal and his mental health, and declaring that he would not pay the fine of $100.
"Late last week I filed my notice of appeal," Choi said in the email. "After this, our case might 'remand' to a new trial without 'mandamus' censorship. Then it can die or go up to the D.C. Circuit (3 Judges), then Rehearing en banc (8+ Judges) and perhaps the Supreme Court."
Choi also told his supporters that he was seeking treatment for mental health issues stemming from his post-traumatic stress disorder, but would continue to fight, saying he wouldn't be able to forgive himself if he had paid the fine for protesting lawfully. He also added that his future re-enlistment, though slowed by hospitalizations to treat those mental issues, would not be hindered by his appeal.
"While I thank you for your personal concerns, I have decided that we can never pay a $100 fee for freedom, no way can we afford such a tax of liberty and justice," Choi said in the email. "We battle on behalf of our future brothers and sisters, sons and daughters, who also deserve a world of equality. Thank you everyone who kept the faith; I couldn't have come this far without you. Let's keep the faith just a little bit more because 'Love is still worth fighting for."'