He may not be part of Jem and the Holograms, but Allen could be considered an expert in glamour, glitter, fashion and fame. The 22-year old Charlottesville, Va., resident works in the cosmetics field for industry giants Chanel and Laura Mercier, and does freelance makeup artistry for parties and special events in his spare time. "Whenever I go out shopping, I always hit up the cosmetics counters to check out the latest trends or products," he says. When he's not ankle-deep in moisturizer and mascara, this former gymnast likes to practice his tumbling and stay in shape at "cheer gyms." Because he loves to dance, when he's in D.C. you're most likely to catch Allen at Secrets or Town.
What's on your nightstand?
A picture of my boyfriend and me, my iPod dock, a snack of some sort.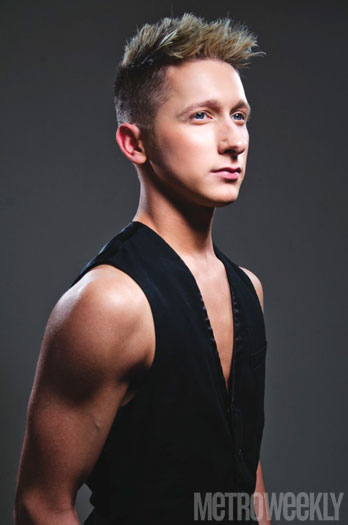 Coverboy: Allen
(Photo by Julian Vankim)
What's in your nightstand drawer?
My underwear, socks, condoms and lube.
What are your television favorites?
Smash, The Walking Dead and RuPaul's Drag Race.
What was your favorite cartoon when you were a kid?
Sailor Moon and Zoids.
What superhero would you be?
Storm. She was my favorite of the X-Men and I thought her ability to control the weather was awesome.
Who's your greatest influence?
Probably my grandmother. I was always known as a "grandmother's boy." She pretty much raised me. I spent more time at her house than my own when I was younger.
What's your greatest fear?
Spiders and heights. I can do roller coasters or planes, but I'd never go up in the Eiffel Tower or anything like that.