He might have been born and raised in Baltimore, but Dearl is in a New York state of mind. Dearl travels often between the District and the Big Apple, home to the man he's currently dating. At 26, this part-time model is still working out the details of his life, but doesn't shy away from the party scene, taking delight in traveling to big cities, drinking socially and hitting up clubs. A big follower of astrology, this Leo is self-assured, confident and seeks out other masculine, type-A personalities for friendship and fun.
What's on your nightstand?
An empty bottle of red wine, one of my watches and a lamp.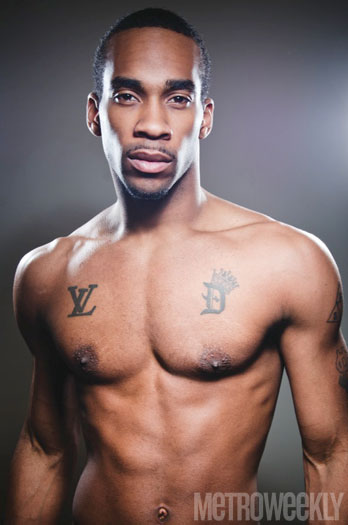 Coverboy: Dearl
(Photo by Julian Vankim)
What's in your nightstand drawer?
An empty bottle of lube, condoms and some other stuff I don't care to talk about.
What are your television favorites?
Anything on Bravo or HBO. Reality shows, like The Real Housewives of New Jersey or The Real Housewives of Atlanta.
What was your favorite cartoon when you were a kid?
Johnny Bravo. I used to love him as a kid.
What superhero would you be?
Spider-Man, so I could trap sexy people in my web.
Who's your greatest influence?
My grandmother. She raised all of us. My mother struggled with addiction at times, but my grandmother was always strong through all of that.
What's your greatest fear?
Heights. I hate heights. I stay at a lot of hotels, and I don't like when I'm way up off the ground.