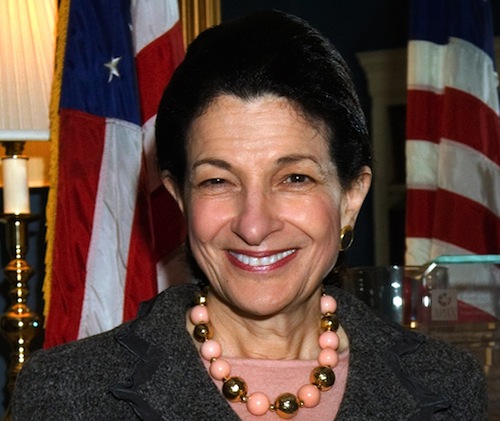 Former Republican Sen. Olympia Snowe revealed she now supports marriage equality in an interview Friday with CNN. Snowe, who retired last year after three terms in the Senate, also said she voted for the ballot measure that legalized same-sex marriage in Maine this past November.
"I think obviously this has evolved over time on the whole issue for the whole country and the nations," Snowe said, according to CNN. "We've seen a sea change in society's whole attitude on this particular issue and it's only natural for government to be responsive to those changes."
Snowe, who was considered one of the Senate's last moderate Republicans before her departure, also said she no longer supports the Defense of Marriage Act, which she voted for in 1996.
"The time has come," Snowe said. "I think what we're seeing is, I think, changing societal conventions, that ultimately you see the transformation of society's gradual thinking and evolving on issues. I think we're seeing those sea changes on this particular question."
Snowe is one of a long list of Republicans who have voiced support for same-sex marriage since leaving public office. In the weeks leading up to Supreme Court arguments in two landmark marriage-equality cases, more than 100 GOP leaders — only two of whom currently hold public office — attached their names to a brief filed in the Proposition 8 case arguing gay Americans everywhere have a constitutional right to marry.
The endorsement from Snowe also puts increased focus on her former colleague from Maine, Republican Sen. Susan Collins. A moderate who has been an ally of the LGBT community in the past, Collins has not yet made her personal views on marriage equality known.
[Photo: Olympia Snowe (Courtesy of the U.S. Senate)]