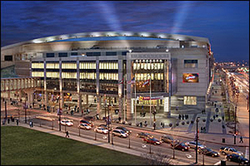 Many eyebrows raised in 2009 when it was announced that Cleveland beat out the bigger competing cities of Boston and Washington as the host city for the 2014 Gay Games. However, yesterday's announcement that the Cleveland Foundation has awarded a $250,000 grant to support the games should help remove any remaining doubts about Cleveland's ability to serve as a world-class host.
As a result of the grant, the event has been named the 2014 Gay Games presented by the Cleveland Foundation. It is the first time in the event's 31-year history it has had a presenting sponsor.
"The Cleveland Foundation is proud to be the presenting sponsor. It provides us the opportunity to express our strong support for social justice and equality for the LGBT community," said Ronald B. Richard, president and chief executive officer of the Cleveland Foundation.
The Gay Games is the largest international sports and culture festival in the world open to all adult participants. The Aug. 9 to 16, 2014, event will be held in venues in and around Cleveland and Akron, Ohio, and is expected to attract 30,000 visitors, including 11,000 participants in more than 35 sports and cultural events. It's anticipated that the event will bring in $58 million to northeast Ohio.
As a result of the partnership between the Cleveland Foundation and local organizers, an LGBT field-of-interest fund is being established at the foundation. The fund will launch at the conclusion of the games in August 2014.
"We are pleased that this fund will serve as a legacy to the Gay Games," said Kaye Ridolfi, senior vice president of advancement at the Cleveland Foundation. "We will be reaching out to the community in the upcoming months to get ideas on shaping the fund so it can best serve our region."
Organizers of the Gay Games also announced that financial services company Ernst & Young made a $100,000 donation, making it a platinum-level sponsor.
In addition, the Cleveland Pain Dealer is reporting that Gay Games organizers also announced venues for the 2014 events, including the opening ceremonies at the Quicken Loans Arena (pictured), which is home to NBA Cleveland Cavaliers, the AHL Lake Erie Monsters and the AFL Cleveland Gladiators. Other venues include the new Cleveland Convention Center, Cleveland State University, Case Western Reserve University, University of Akron, Firestone Stadium and Akron Marathon Course.
Registration for the Gay Games is open, and additional information is available online at gg9cle.com.