Politicians and advocates are hailing Jason Collins as a hero after the NBA player made history today as the first out male athlete playing in any of the four major American sports leagues.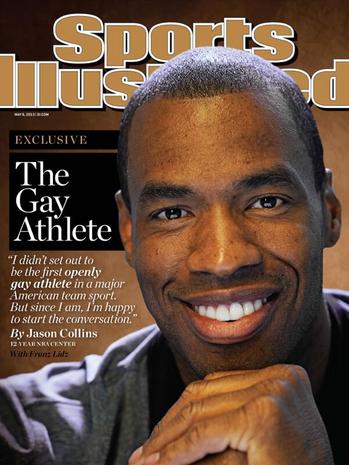 In a piece penned for Sports Illustrated, Collins, who has played for the Boston Celtics and Washington Wizards, announced to the world what few knew before: "I'm a 34-year-old NBA center. I'm black. And I'm gay," Collins wrote.
"I didn't set out to be the first openly gay athlete playing in a major American team sport. But since I am, I'm happy to start the conversation," Collins added. "I wish I wasn't the kid in the classroom raising his hand and saying, "I'm different." If I had my way, someone else would have already done this. Nobody has, which is why I'm raising my hand."
Collins's announcement comes as there has been increased attention in recent months on the possibility of a pro-athlete coming out in the four biggest sporting leagues in the nation: the NFL, NBA, NHL and Major League Baseball.
"Jason Collins has forever changed the face of sports," declared Human Rights Campaign President Chad Griffin in a statement. "His actions today tell LGBT young people that what will define our success in life is our character and dedication, not our sexual orientation. At a moment when millions are reflecting on the life and legacy of Jackie Robinson, Jason Collins is a hero for our own times."
Speaking to reporters Monday, White House press secretary Jay Carney said he had not spoken to President Obama about the announcement, but that the White House commends Collins for his courage and believes his announcement is an example of "the progress that has been made and the evolution that has been taking place in this country."
Former President Bill Clinton also joined the outpouring of support for Collins, whom he has known since Collins was a classmate of Chelsea Clinton's at Stanford University. "Jason's announcement today is an important moment for professional sports and in the history of the LGBT community. It is also the straightforward statement of a good man who wants no more than what so many of us seek: to be able to be who we are; to do our work; to build families and to contribute to our communities," Clinton said in a statement. "For so many members of the LGBT community, these simple goals remain elusive. I hope that everyone, particularly Jason's colleagues in the NBA, the media and his many fans extend to him their support and the respect he has earned."
Also among those praising Collins was Rep. Joe Kennedy (D-Mass.), who has known Collins since they were roommates at Stanford. According to Collins, he realized he needed to come out publicly after Kennedy marched in Boston's 2012 Gay Pride Parade.
"I'm seldom jealous of others, but hearing what Joe had done filled me with envy. I was proud of him for participating but angry that as a closeted gay man I couldn't even cheer my straight friend on as a spectator," Collins wrote. "If I'd been questioned, I would have concocted half truths. What a shame to have to lie at a celebration of pride. I want to do the right thing and not hide anymore. I want to march for tolerance, acceptance and understanding. I want to take a stand and say, 'Me, too.'"
Kennedy, along with First Lady Michelle Obama and some of the out members of Congress, tweeted their support for Collins.
I've always been proud to call @jasoncollins34 a friend, and I'm even prouder to stand with him today.

— Rep. Joe Kennedy III (@RepJoeKennedy) April 29, 2013
So proud of you, Jason Collins! This is a huge step forward for our country. We've got your back! -mo

— FLOTUS (@FLOTUS) April 29, 2013
. @jasoncollins34 thank you for the courage you demonstrated today, it will make a significant difference – particularly for young people.

— David N. Cicilline (@davidcicilline) April 29, 2013
Jason Collins' bravery & willingness to be who he is should serve as an example of courage to all – regardless of their sexual orientation.

— Mark Takano (@RepMarkTakano) April 29, 2013
Great news today – @jasoncollins34 joins out pro women athletes like @brittneygriner & @mpinoe! #bewhoyouare #lgbtathletes

— Kyrsten Sinema (@kyrstensinema) April 29, 2013
Thank you @jasoncollins34 4 making it easier for #lgbt athletes to b honest & not get discouraged from participating at the highest levels

— Jared Polis (@jaredpolis) April 29, 2013