"I didn't think we were going to have to battle with and learn from all these older people," says Christian Taboada. "I didn't know it was spring break with senior citizens."
That is essentially the basis for the new reality TV series Forever Young. Co-produced by Ashton Kutcher, the show plays up what its voiceover announcer calls the "ever-expanding chasm between generations [that] threatens to tear a hole in the social fabric." Five people under 30 and five people over 70 spend a week together in a manse, with scripted games, activities and discussions to provoke drama, all while the cameras roll.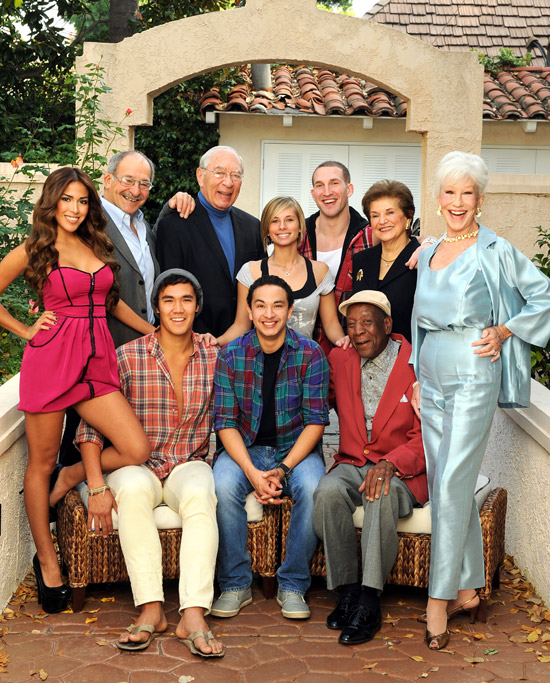 Christian Taboada (center front) with cast of TV Land's "Forever Young"
Taboada, a 25-year-old gay California native who works as an apartment manager in West L.A., simply signed up for the show by responding to a posting asking, "Would you like to be the voice of your generation?" Even after meeting with producers, he didn't know it was to be an intergenerational experiment until the moment he and the rest of the participants were on set. "I just knew that we were doing this TV show about the generation of now," he says. "I thought we were just going to be paraded around, asked some questions — you know, have a good time just kicking it."
Though the show starts in full bluster with a lack of respect shown on both sides of the generational divide, the participants eventually bond. "I feel this is a good example of how it really is like to accept people, no matter who they are," says Taboada. "And that's what a true family is." He was also pleasantly surprised he didn't encounter even "a little hiccup" about his sexuality. "Everyone was so warm, everyone was so whatever about it."
Taboada has become a little closer to his own family thanks to the show, and remains in close contact with several show participants from the older generation. And then there's the straight jock Mike from his peers. "I talk to Mike a lot actually," he says, teasing, "I know how to stick with the big guys, what can I say?"
Forever Young premieres Wednesday, April 3, at 10 p.m., on TV Land. Visit tvland.com.