"I would get bored, I think, with circuit parties [and] eight-minute-long songs," says Keenan Orr. "I think the closest to a circuit party I'm going to do is Town."
Orr, who has spun a few Sunday night WTF parties at Town, will make his debut as a Saturday night "circuit" DJ upstairs next month, tag-teaming with Town's resident DJ Wess. But even if he never DJs a circuit party, or even Town again after May 18, chances are he'll still hold the record as one of D.C.'s most versatile DJs. How many other DJs can you name who spin every week at a hip straight bar, a popular chillout lounge and a boisterous gay club?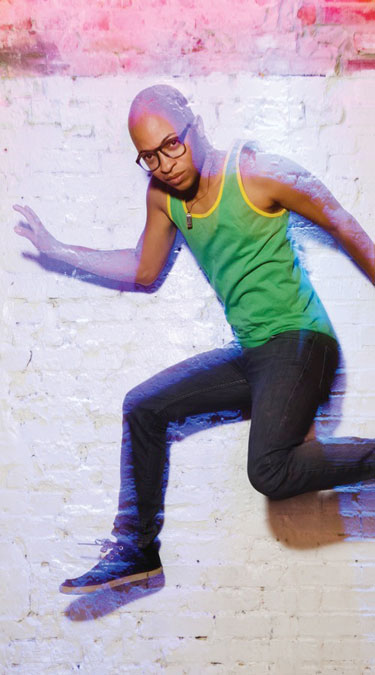 Keenan Orr
(Photo by Julian Vankim)
"You have to be versatile to be a DJ," Orr says, "because certain sounds just do not work in certain spaces." Asked for specifics, Orr responds, "You can't play Rihanna at Eighteenth Street Lounge," the swanky chill-out venue where he spins every Tuesday night. "It's more of a low-key-type atmosphere," he says, where hip-hop and down-tempo, "chiller music" reigns, such as that from the lounge's affiliated musical act Thievery Corporation. When he spins with DJ Smudge at Marvin on the rooftop every Sunday afternoon in season, Orr focuses on soul and funk hits and classic tracks for the "mostly straight but huge mixed crowd. I mix it up a little bit, but I try not to go too poppy." The poppy stuff, such as Rihanna, he saves for Cobalt, where Orr spins downstairs every Friday night, as well as occasionally upstairs for other parties. "At Cobalt the goal is just to keep people dancing, keep people moving," he explains.
The 36-year-old, who grew up in Vienna, Va., got hooked on nightlife and dance music early, sneaking into Tracks with a fake I.D. before he was even of driving age. And despite his lack of interest in the circuit, Orr cites former Tracks resident DJ Michele Miruski as his chief influence. "She was the main reason why I wanted to become a DJ," he says. "I saw her controlling the crowd. It was amazing." Still, he gave himself years of home practice before he took a professional DJ gig a decade or so ago. "I wanted to make sure I was ready," he says. That first gig was for a Saturday night mixed crowd at the former Southeast nightclub The Edge.
It wasn't until he added Cobalt to his list in 2009 that Orr started playing truly gay events. At gay events in particular, Orr describes his sound as "very influenced by R&B and pop." But it's not always the tried and true tunes, or mixes you expect. "I like to play stuff that you wouldn't typically hear at a club," he explains.
This year, Orr, who lives in Columbia Heights, is serving on the entertainment committee for Capital Pride, working with Kurt Graves, aka DJ Twin, to head up a local DJ area at the festival. It's volunteer work that comes in addition to his full-time DJ schedule of work five nights a week, with Monday and Wednesday nights off. That can be a challenge for a social life.
"I can't find anybody to hang out with. Everybody's at work," Orr teases, though he adds, "You'd be surprised. Wednesdays can be a lot of fun."
Among his various regular gigs, Orr spins every Friday night at Cobalt, 1639 R St. NW. Call 202-232-4416 or visit cobaltdc.com or facebook.com/keenanorr.