And babe, don't you know it's a pity
That the days can't be like the nights
In the summer, in the city
In the summer, in the city
Los Angeles is giving '60s rock band The Lovin' Spoonful exactly what they wanted — a summer of fun days and nights.
One City One Pride
The City of West Hollywood will once again celebrate Pride and the artistic contributions of the LGBT community with the One City One Pride LGBT arts festival. Held throughout late May and June, but centered on the dates of May 31 to June 16, this festival comprises both free and ticketed events including theater, film, music, spoken word and visual art.
This year, for the first time, the festival has a theme: "The Sacred and The Profane," which explores the dichotomies of the LGBT experience: how the community views itself in contrast to how it is seen from the outside, a blending of the spiritual and the carnal, of things holy and wicked, and of things granted and taken away. Learn more here.
LA Pride
The 2013 LA Pride Celebration, held in beautiful West Hollywood Park, is the largest gathering of the LGBT community in Southern California. Visitors will enjoy live entertainment on multiple stages, headline performances, all new dance venues, numerous exhibitors, food and drink vendors and thousands of members of a vibrant and active community.
Details for this year's LA Pride are still pending, but the event has a tradition of drawing celebrity participation. Last year, for example, Lil' Kim performed and Molly Ringwald served as grand marshal. Learn more here.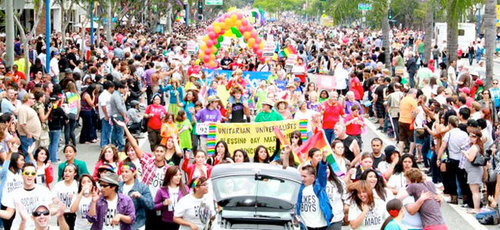 Outfest
There are LGBT film festivals and then there is Outfest Los Angeles. Ten days of world-class films, discussions and parties, Outfest ranks among the world's leading events for LGBT cinema. Presenting nearly 150 new and classic short and feature films from around the world, panels featuring notable figures from all facets of the film industry and other special programs, Outfest shares LGBT stories, pays tribute to legendary screen careers, unites the community and inspires new generations of filmmakers and filmgoers.
Directors, producers, actors and writers from every corner of the globe converge upon the Directors Guild of America, the John Anson Ford Amphiteatre, the historic Orpheum Theatre and other Los Angeles screening locations to share their work and their knowledge with an audience of more than 40,000. This year's festival is scheduled July 11 to 21. Learn more here.
Detailed information on visiting Los Angeles is available at DiscoverLosAngeles.com.