Pat Hawkins is trying to remake the image of medical marijuana as the District prepares to make it a reality.
Hawkins, a clinical social worker, psychologist and former substance-abuse treatment counselor who has long been involved in health care advocacy, particularly around HIV/AIDS, sees the District as potentially a model for how to administer a medical-marijuana program for severely sick patients.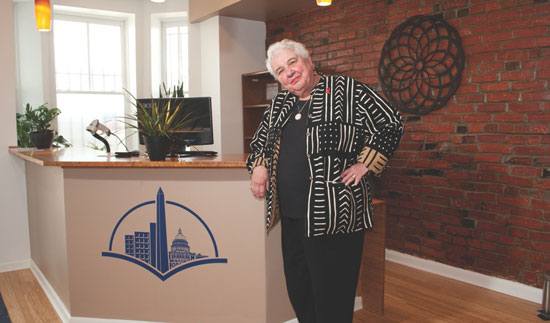 Pat Hawkins of Capital City Care
(Photo by Todd Franson)
Speaking to Metro Weekly in an interview at Capital City Care, which is set to open this month as the first of five planned medical-marijuana dispensaries in the District, Hawkins says D.C.'s program will be heavily regulated, with each patient able to obtain only 2 ounces of marijuana in any 30-day period, and only from a single, pre-designated dispensary. Only patients or pre-designated caregivers with District-issued identification cards will have access to the dispensaries – guarded by security officers and monitored by the Metropolitan Police Department via surveillance cameras. Hawkins emphasizes there will be a focus on the science of how prescribed cannabinoids are affecting patients' health.
Furthermore, Hawkins adds, not everyone who applies for medical marijuana will be approved. Instead, the program is limited to those suffering from HIV/AIDS, cancer, glaucoma and severe muscle-spasm conditions such as multiple sclerosis. She also points out that clients who qualify for medical marijuana will not be able to get it unless they can prove they have been in regular contact with their primary doctor and have been following a treatment regimen.
"Some people have been disappointed, saying, 'I have really bad migraine headaches,' and I said, 'No, it's not going to work like that,"' Hawkins says, laughing. "It's really a much different focus than, 'Let's all get high together.' My issue is, if I can improve treatment adherence, thereby improving clinical outcomes, that's the biggest goal for me."
"It's true, so many people come by because they hear about the other programs in other jurisdictions and assume ours mimics that," chimes in David Guard, the executive director of Capital City Care. His colleague, Scott Morgan, interjects to add that even in applying for a medical-marijuana identification card, the qualifying criteria are clearly listed.
Despite many states making moves to legalize medical marijuana, Hawkins says the idea of using the drug has been maligned in such a way that people often assume it's a back door to engaging in illicit drug use, citing some "horror stories" she's heard of from other states, particularly California.
"It's to everybody's advantage if we can prove this here in D.C. and get this away from the California recreational model, and get people to understand it's a medical model," Hawkins says. "That's an incredible advantage."