"Definitely Peter. You can say that's my biggest influence," Alain Jackinsky says, referring to the legendary DJ Peter Rauhofer. "I've been influenced by him since I was a kid."
That might come as a surprise to people who know the 32-year-old Jackinsky only through his regular collaborations with DJ Paulo, including last year's club hit "Chicky Boom." Actually, it comes as a surprise to Paulo himself.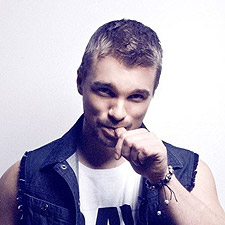 Alain Jackinsky
(Photo by via Soundcloud.com/jackinsky)
"I thought I was! Get out!" Paulo retorts playfully, overhearing Jackinsky's answer. Metro Weekly reached Jackinsky by phone last week while he was staying at Paulo's Los Angeles home. The two were preparing to travel to Palm Springs, where they tag-team DJ'ed an after-hours party at last weekend's White Party.
Jackinsky met Paulo about six years ago, when he opened for the popular American tribal-house DJ at an after-hours party during Montreal's famed Black and Blue Festival. Jackinsky had just started DJ'ing at a couple gay bars in Montreal, including Sky Club. "Every time he'd come to Montreal, we'd hang out," Jackinsky says. "We realized we had a connection and we slowly started working on music together."
Jackinsky was raised in provincial Quebec, moving to big-city Montreal as soon as he finished high school in 1999. Montreal allowed Jackinsky to connect with music in a way that he couldn't growing up. "My parents were really religious, and they kind of did everything for me not to go in this direction," he says. His parents, Jehovah's Witnesses, disallowed even school band or choir, so the best Jackinsky could do as a teen was pretend he was a radio DJ. "I would mix alone in my basement." When he came out Jackinsky "lost all my family. I mean, I still talk to them, but I don't even consider them my parents really. I'm dead to them, and they're dead to me, basically."
Fortunately, Jackinsky has plenty of support on the DJ circuit. He made his New York debut last year, and will hit Brazil next month. He'll make his Washington debut this Saturday, April 6, at Town Danceboutique as the headline DJ for the main event during Cherry weekend.
"There are definite similarities, but we're not the same," Jackinsky says, when asked to compare his sound to Paulo's. He then defers to Paulo, who can be heard in the background saying, "You might be a little bit lighter." "I may be more big room," says Jackinsky, adding he's slightly less of a fan of after-hours parties than Paulo. When asked about playing after-hours, which start in the middle of the night, Jackinsky laughs: "The hours are a little weird."
Alain Jackinsky spins Saturday, April 6, for Cherry at Town Danceboutique, 2009 8th St. NW. Tickets are $12. A Cherry VIP Host Pass, allowing no-line entrance at all main events, are $100 each. Visit towndc.com or cherryfund.org.