It's no surprise Coriolanus isn't staged as often as Shakespeare's other tragedies — the protagonist is as inscrutable as he is excitable, the battle scenes require ingenuity, and the sense of a volatile and fickle proletariat is not easy to evoke with a modest ensemble. And yet despite these inherent shortcomings, to see the Shakespeare Theatre Company's production — a stunning work of urgency and clarity — is to wonder why it is not more of a staple. And to see it staged as such a "page-turner" (albeit, an Elizabethan one) is to also see that it captures what still fascinates in the unraveling of the mighty whether it be within the maelstrom of local and national politics or in television's fictive melodramas. It's all right here; a 17th century masterpiece filled with guts, glory, a complicated psychology, and the arrogance before the fall. It even has a pushy mother.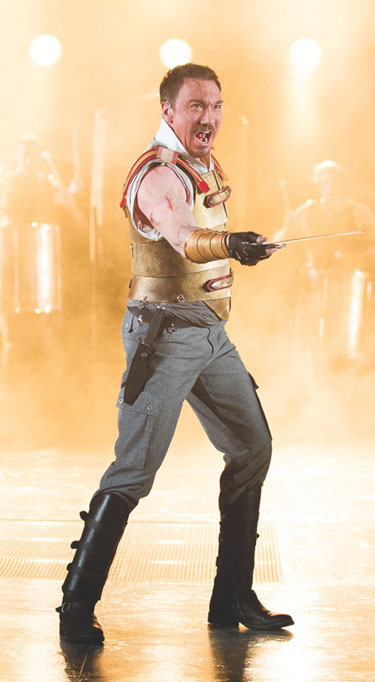 Coriolanus at the Shakespeare Theatre Company
And unlike some of the bard's versions of historic tales (this one is likely based on the legendary Roman leader of similar name), it's not an overly complicated plot. Caius Martius — Coriolanus — is a brilliant soldier but no man of the people. He wins a major battle for Rome against Tullus Aufidius and the Volscians and upon his return, he's made consul, the highest Roman office. This displeases two of the people's representatives, Junius Brutus and Sicinius Velutus, who revile Coriolanus for his contempt for the masses. The two do their best to discredit him and before long they have convinced the fickle proles and he is banished from Rome.
Enraged, Coriolanus finds his former enemy Aufidius as he is preparing to march on Rome and swears his allegiance. But when his mother Volumnia arrives at their camp to beg him to spare the city, Coriolanus calls for a truce. Disturbed by Coriolanus's unilateral act and his hold over his troops, Aufidius humiliates him upon their entrance to Rome and incites the troops to murder.
With this less than complicated trajectory, like any great fall, what makes the viewing compulsive is not only Shakespeare's artfully delivered events but also his invitation to speculate on just how much or little of it Coriolanus deserves. Beyond the schadenfreude inherent in a bastard getting his due, there is the question of whether in Coriolanus the Romans simply got what they asked for. After all, they prize his near super-human valor — he is a tremendous leader and a one-man war machine — how could they be surprised when he has no time for the peasants? Perhaps such extremes in capabilities must always be underpinned in equal parts damage, dysfunction and arrogance? Of course this is one Shakespeare play, with its notable dearth of soliloquies, in which one never quite knows. And that is the actor and his director's challenge.
Fortunately, such unresolved questions are answered with a powerful construct. Strung almost inhumanly high and delivering his Shakespeare in tones of sonorous gravel, Patrick Page's Coriolanus is at once the picture of the insatiable warrior. And larger-than-life he must be for who else but someone this frenetic could charge into battle single-handedly and survive? Yet even as the ferocity burns red, Page unfurls a colorful tapestry of private smirks, uncertainties and snatches of blind fury that reveal the complexity of the psyche under the helmet.
Far subtler is another suggestion by Page; that this is a man engaged in the "performance" of the man he has been forced to become — and he is helpless to stop it.
And it is no wonder he is insufferable. Volumnia has raised him for ruthless warfare with unwavering assurances of his social superiority (which she next bestows on her grandson). But chinks in this armor do appear, certainly in the near-secret tenderness he offers his wife Virgilia (played with quiet effectiveness by Aaryn Kopp) and it begs another interesting question: Does he know he might have been a different man and does he mourn it?
And though the connection between mother and son is not always as palpable as it could be — the actors at times seem to play in parallel spaces — Coriolanus's terrible ambivalence comes to the fore when Volumnia pleads for Rome's safety. As she by turns begs, manipulates and bullies her son, Page's Coriolanus evolves from stony conviction to agitation to the explosive misery of a man compromised. It's a graphically intimate moment and a memorable rendering of this man undone.
CORIOLANUS





To June 2
In rep with
Wallenstein
$43-$105
202-547-1122
shakspearetheatre.org
Channeling the universally recognizable essence of the overbearing mother, Diane D'Aquila is as loathsome as the role requires. Something had to have been wrong in Coriolanus's world — whether it made him what he is or triggered a latency — and here she is. D'Aquila positively sings with the language and its power and only a few overdone "tsks" diminish her pitch-perfect portrait. But that, really, is a matter for director David Muse who otherwise paces and pushes the drama with an impressive rhythm matched (and sometimes driven) by a creative use of drums.
Nicely delineated by some thoughtful lighting and amplification, the two instigating tribunes Brutus and Sicinius, played by Philip Goodwin and Derrick Lee Weeden, are effective and nuanced. Robert Sicular's Menenius Agrippa, Coriolanus's friend to the last, is a strong cornerstone to the proceedings and deeply at home with the language. In the role of Aufidius, Reginald Andre Jackson is evocative and credible, offering an engagingly somber realism. He brings an interestingly unaffected voice to his Shakespeare without sparing any precision, a cadence that compels and draws the ear. From the ensemble, Avery Glymph stands out for his magnetic combination of low-key charisma and single-minded investment.
A keenly envisioned, high-octane work of classical theater, this is one fall you'll want to catch.