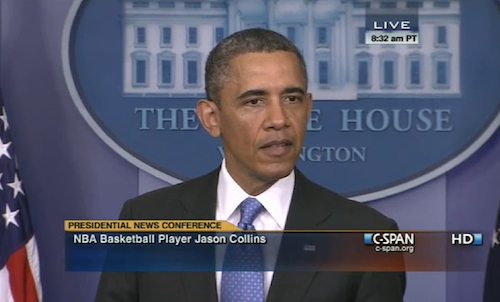 President Barack Obama was on his way out of a press conference with reporters at the White House when he stopped and returned to the podium to address a question about Jason Collins, the NBA player who came out as gay yesterday.
"Yeah, I'll say something about Jason Collins," Obama said, walking back to the microphone after spending more than 45 minutes fielding questions from reporters.
"I had a chance to talk to him yesterday. He seems like a terrific young man and I told him I couldn't be prouder of him," the president said, who is well known as a basketball fan. "One of the extraordinary measures of progress we've seen in this country has been the recognition that the LGBT community deserves full equality, not just partial equality. Not just tolerance, but a recognition that they're fully a part of the American family."
"Given the importance of sports in our society for an individual who's excelled at the highest levels in one of the major sports to go ahead and say, 'This is who I am. I'm proud of it. I'm still a great competitor. I'm still 7-foot tall and can bang with Shaq and deliver a hard foul.' For, I think, a lot of young people out there who are gay or lesbian who are struggling with these issues to see a role model like that who is unafraid, I think it's a great thing," Obama continued. "And I think America should be proud that this is just one more step in this ongoing recognition that we treat everybody fairly and everybody's part of a family and we judge people on the basis of their character and their performance and not their sexual orientation. So, I'm very proud of him."
Obama is one of many political figures, including first lady Michelle Obama and former President Bill Clinton, to applaud Collins for his decision to come out. Announcing that he is gay in Sports Illustrated yesterday, Collins became the first out male athlete playing in any of the four major American sports leagues.
During an interview with ABC's Good Morning America, Collins said the president called him shortly after the announcement and was "incredibly supportive."
"It's incredible. Just try to live an honest, genuine life and the next thing you know you have the president calling you," Collins said. "He was incredibly supportive and he was proud of me and said this not only affected my life but others' going forward."
Watch Obama's remarks here via ThinkProgress: