No, Carol Channing has not returned to Washington in the new revival of Hello, Dolly! Channing has played the role of Dolly Gallagher Levi so many times, including several times in D.C., it's hard to think of anyone else in the role.
But director Eric Schaeffer decided to put his hand in and play matchmaker with little-known Broadway veteran Nancy Opel. And the delight of Ford's Theatre's revival, a co-production with Schaeffer's Signature Theatre, is not so much how well Opel fits Channing's shoes, but that her own shoes fit so well in the role.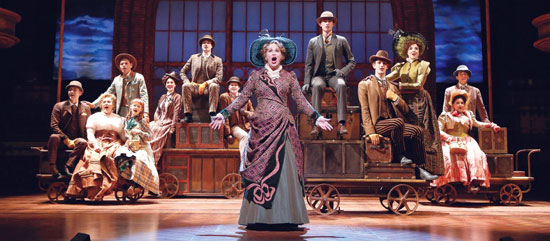 Hello Dolly: Nancy Opel and cast
(Photo by Carol Rosegg)
Opel as Dolly is a friendly, realistic self-promoter and schemer in an age when self-promotion, even a little scheming, is standard operating procedure via social media. The character Dolly, after all, is a social guru, a businesswoman who can help anyone to dance, dine or find a mate — for a small fee.
Whereas the brassy, larger-than-life Channing had the male employees in the upscale Harmonia Gardens Restaurant shouting the title tune as if she were the second coming of Ethel Merman — or some other feminine deity — Opel has them cooing instead. They're pleased as punch to see her, since she's all good humor and good business, but they don't get carried away with their ardor.
There's much to be commended about this revival of one of Jerry Herman's masterpiece musicals, with a book by Michael Stewart based on Thornton Wilder's play The Matchmaker. Schaeffer subtly attempts to both pare down one of America's best-loved and showiest musicals as well as modernize it for new audiences. Everything about the production is stately and stylish, from Adam Koch's Victorian-era sets to Wade Labiossonniere's regal, elaborate though not old-fashioned costumes. Choreographer Karma Camp has the small 16-member cast move with wit and grace, adding a little athleticism for the restaurant employees. And James Moore leads an eight piece orchestra that does its inordinate best to put some pep in the actors' steps, but never in a showboating sense.
Because everything's a bit understated, it does take a little while for Hello, Dolly! to woo a viewer and even longer to wow. The cast is a pretty solid ensemble, though I found Carolyn Cole's Emmengarde to be a bit too one-note whiny. But Edward Gero, who Ford's Theatre regulars will know as Scrooge from the annual production A Christmas Carol, is in fine form as the cantankerous half-a-millionaire Horace Vandergelder.
Vandergelder employs Dolly to find him a mate before eventually succumbing to her charms and schemes and asking for her hand in marriage. Dolly also sees to it that several other couples form among the cast, whose strongest member aside from Opel and Gero might by Tracy Lynn Olivera. Playing Irene Milloy, the widowed owner of a hat shop, Olivera dazzles in her portrayal of a woman as self-reliant as she could be at the end of the 19th century, when even successful, independent women were still judged by the men in their life. In fact, it wasn't until Milloy's number, "Ribbons Down My Back," that I started falling for this production. Truth be told, as sturdy as Opel was from the get-go, it wasn't until the end of Act 1, particularly the closer belter, "Before the Parade Passes By," that I completely fell for her, too.
HELLO, DOLLY!




To May 18
Ford's Theatre
$10 to $61
800-982-2787
www.fordstheatre.org
Of course, Act 2 of Hello, Dolly! is where the show really finds its footing, with one comedic bit, and one romance solidifying, after another. The Ford's Theatre ensemble carries off the hilarious "Polka" number with particular zeal, and I won't soon forget how much glee it was watching Opel commanding the scene, much of the time while pretending to mind her own business, eating dinner, while the rest of the characters engage in a free-for-all all around her.
By show's end you'll be singing one of your old favorite songs from way back when right along with the cast and this swell-looking Dolly.