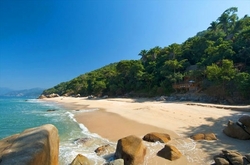 One of the most popular destinations in Mexico for LGBT travelers, Puerto Vallarta has announced that the 2013 Vallarta Pride will be held May 24 to 26.
The celebration will start with a cocktail kick-off at Puerto Vallarta's Casa Cupula Hotel Boutique and continue for three days, celebrating LGBT culture and Puerto Vallarta's welcoming community with music festivals, beach parties, fashion shows, a mass commitment ceremony and activities in participating bars and clubs.
Confirmed events for Vallarta Pride 2013:
Opening Reception
Friday, May 24, at 9 p.m.
Taste Restaurant at Casa Cupula
Commitment Ceremony
Saturday, May 25, at 11 a.m.
Lido – Beach Club
Fashion Show
Saturday, May 25, at 2 p.m.
Blue Chairs Beach Club
"HEAT" – Tea Dance
Saturday, May 25, at 4 p.m.
Lido / Blue Chairs
Vallarta Pride 2013 @ Night
Themed nights at participating bars/lounges/clubs
Saturday, May 25 at 8 p.m.
Vallarta Pride Parade 2013
Sunday May 26, 2013, at 4 p.m.
Romantic Zone
Vallarta Pride Festival 2013
Sunday, May 26, at 5 p.m.
Lazaro Cardenas Park / Romantic Zone
More details on Vallarta Pride and information on traveling to Puerto Vallarta can be found at visitpuertovallarta.com.
While Mexico is struggling with pockets of violence throughout the country, the U.S. Department of State has no recommendation against travel to Puerto Vallarta. However, LGBT travelers are encouraged to consult the LGBT section of the State Department's travel website and register for its Smart Traveler program.