Rhode Islanders United for Marriage, the group seeking to legalize marriage equality in the Ocean State, released two online advertisements Monday and will hold three canvassing/phone-banking events this weekend ahead of an expected vote on same-sex marriage by the state Senate.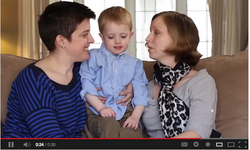 The new ads feature a lesbian couple, Martha Holt Castle and Patty Castle, and their son, Tobin; and Fr. Edmund Harris, an assistant pastor at the Episcopal Church of the Epiphany in East Providence, R.I. In the first ad, titled "Ultimate Commitment," the Castles talk about their relationship and marriage in Massachusetts and why legalizing same-sex civil marriages in Rhode Island is so important to their family.
In the second ad, titled "Empowered," Harris talks about the importance of being a pastor and how he is empowered to decide which couples he will marry under his faith's traditions, noting that the marriage-equality bill, Senate Bill 38, allows him to continue to do so and provides protections for all types of faith communities in Rhode Island.
"These ads are coming at a critical time and augment the unprecedented grassroots campaign that is actively engaging Rhode Island voters with their senators all across the state," Ray Sullivan, campaign director for Rhode Islanders United for Marriage, said in a statement announcing the release of the advertisements. "The ads focus on two important perspectives – the real impact the freedom to marry has on all loving, committed couples, friends and neighbors, and the appropriate protections Senate Bill 38 includes for faith communities, who will continue to make decisions about who is eligible to marry in their tradition."
"We're making a significant investment with this ad campaign through targeted online ads on local and national websites, YouTube and elsewhere," Sullivan continued. "We are proud to tell these unique, Rhode Island stories."
The Monday release is a week to the day after Rhode Island State Senate President M. Teresa Paiva-Weed (D-Newport), an opponent of marriage equality, told The Providence Journal she expects a full Senate vote on the issue by the end of April.
Paiva-Weed told reporters she felt "very confident" that the issue would be fully debated on the floor of the Senate and said she viewed her responsibility, as Senate President, was "to ensure an open and honest debate in committee and on the floor." She also indicated she didn't expect to have to use her position as an ex officio member of the Judiciary Committee to cast a tie-breaking vote to move the bill to the Senate floor, implying there may be at least 6 of 10 possible votes in favor of passing the bill out of committee.
H5015, the House version of a bill almost identical to S38 that would legalize marriage equality, passed the State House of Representatives in January by a vote of 51-19. On March 21, the Senate Judiciary Committee heard more than 12 hours of testimony into the early morning hours on two bills: S38, as introduced by committee member and out lesbian Sen. Donna Nesselbush (D-Pawtucket), to allow same-sex couples to obtain civil marriage licenses, and a competing measure, S708, introduced by Sen. Frank Ciccone (D-Providence), which would ask voters to approve or reject legalizing same-sex marriages via referendum. But voting to approve same-sex marriage would have strings attached: namely, requiring the implementation of much broader exemptions, beyond those already given to churches, religious institutions or clergy by S38.
Some of the exemptions in S708 would include allowing groups very loosely affiliated with religious institutions, such as a hall or venue run by the Knights of Columbus, or even groups not affiliated with any particular religion, such as a fraternal order or organization, to discriminate against same-sex couples.
Other exemptions would allow small-business owners or employees to claim personal or moral objections as an excuse to turn away gays and lesbians from places of public accommodations, such as restaurants, stores and even hospitals. Critics of the Ciccone bill say these provisions violate and would essentially undermine a 1995 state law that prohibits discrimination based on sexual orientation. The extent of the so-called "protections" even prompted Sen. Leonidas "Lou" Raptakis (D-Coventry), who is thought to be an opponent of marriage equality, to withdraw his support from S708, telling The Providence Journal that he thought the exemptions went "overboard." As an owner of a pizza restaurant, Raptakis said he would never discriminate against someone coming into his business and said the proposed protections for small-business owners go too far.
Paiva-Weed said she fully anticipated that, regardless of which bill emerged from committee, the other side would offer amendments on the Senate floor to make the bill more favorable from their viewpoint.
Rhode Islanders United for Marriage also announced Wednesday via Twitter that, as part of a final push leading up to the expected Senate vote on marriage equality, they would be holding three events: two canvassing opportunities on Saturday, April 20 and Sunday, April 21, as well as a phone-banking event on April 21. The events are expected to rally already-identified supporters or potential supporters to call and lobby their legislators in favor of S38.
Watch both of the online ads below:
"Ultimate Commitment":
"Empowered":
[Photo: Screenshot of "Ultimate Commitment" ad (Courtesy of Rhode Islanders United for Marriage).]