The Rhode Island State Senate overwhelmingly approved amended House and Senate versions of a marriage-equality bill on a 26-12 vote Wednesday evening, sending the measures back to the House of Representatives for a final vote before they can be signed into law by Independent Gov. Lincoln Chafee, a strong supporter of marriage equality.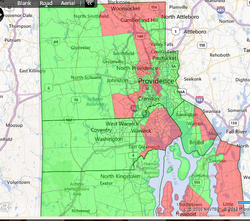 The Democratic-dominated Senate, which counts many vocal opponents of same-sex marriage among its leadership, was seen as the last hurdle to making Rhode Island the 10th state (and 11th jurisdiction, including the District of Columbia) to allow same-sex couples to obtain civil marriage licenses. But Senate President M. Teresa Paiva-Weed (D-Newport) and one of her chief allies, Senate Judiciary Committee Chairman Michael McCaffrey (D-Warwick), helped move the measures through various obstacles to the floor of the Senate to ensure both bills received fair debate, despite both of them voting against the bills.
The Senate version of the marriage-equality bill, S38, sponsored by Sen. Donna Nesselbush (D-Pawtucket), and the House version, H5015, sponsored by Rep. Art Handy (D-Cranston), both passed out of the Senate Judiciary Committee on a 7-4 vote Tuesday, a month after the committee held a 12-hour marathon hearing on the two bills, as well as a third that would have placed the issue on the November 2014 ballot as a referendum. That bill, sponsored by Sen. Frank Ciccone (D-Providence) was defeated Tuesday on a 6-5 vote.
During Wednesday's debate on the Senate floor, Ciccone offered a floor amendment that would have replaced the marriage-equality bill with one identical to his proposed referendum bill, which would have asked voters to approve or reject same-sex marriage, contingent upon approving sweeping religious or moral protections to carve out special exemptions for non-religious organizations, fraternal societies and business owners by allowing them to discriminate against gay and lesbian couples, thereby undermining LGBT legal protections provided by a 1995 Rhode Island antidiscrimination law. After several minutes of debate, Ciccone's amendment was defeated 28-10, with even Paiva-Weed voting against it.
Many legislators speaking in favor of the bill frequently adopted terminology used by national politicians like President Barack Obama, saying they "evolved" on their thinking regarding same-sex civil marriages. Supporters frequently pointed to religious protections for clergy and religious institutions in both marriage-equality bills that they said were sufficient without going "overboard," as one senator referred to the exemptions in Ciccone's bill.
Several legislators also recalled conversations they had with close friends and constituents who were gay or lesbian and who shared their stories with senators in the lead up to the vote. Still others, including Sen. Elizabeth Crowley (D-Central Falls) and Sen. Erin Lynch (D-Warwick), said they "feared" the vote on marriage equality, because they knew that they would upset some constituents no matter which way they voted. Both senators voted in favor of same-sex nuptials.
"I was a 'no' vote once," Sen. Jamie Doyle (D-Pawtucket) said during debate, noting that he didn't personally object to marriage equality, but thought his constituency, a district with large numbers of white conservative Democrats in eastern Pawtucket, was opposed. But after talking to a lifelong friend, a lesbian, and learning about the inequality between his marriage and hers, legal in Massachusetts but not recognized by the federal government, he changed his mind.
"My views have evolved," Doyle said. "If two people are prepared to make a lifetime commitment … the government shouldn't deny them the opportunity to get married."
Then, jokingly, Doyle said, "I gotta be honest with you folks. If the first thing our Lord asks me is, 'Why did I vote that way on same-sex marriage?' then I'm doing pretty good."
But opponents of marriage equality also had their moments in the spotlight. Sen. Harold Metts (D-Providence) issued a long, rambling discourse that jumped from quoting the Bible, to accusing same-sex marriage proponents of running a Republican candidate and a Hispanic Democrat candidate against him, to linking Chinese currency manipulation and that country's global power to the emergence of same-sex marriage as a U.S. political issue.
In a more measured and manner, Sen. Ed O'Neill, the chamber's sole Independent, said he opposed the bill and urged senators to "vote their conscience" and follow their "moral compass," regardless of pressure from outside groups.
Both the Senate and House versions of the marriage-equality law passed by identical margins. In a historic show of support, all five Republicans in the upper chamber voted in favor of the bills, becoming the first full caucus of either major political party of any state in the nation to endorse marriage equality. The five had previously pledged to support the measure prior to the Judiciary Committee vote Tuesday.
Following the Senate vote, Rhode Islanders United for Marriage, the grassroots organizing campaign dedicated to legalizing same-sex nuptials in the Ocean State, issued a press release praising the marriage-equality bills' passage.
"This is an historic day," Ray Sullivan, campaign director for Rhode Islanders United for Marriage, said in a statement. "We are close to the end of a journey that began in 1997, and today we took a giant step toward ensuring all loving, committed couples in Rhode Island have the freedom to marry. When we began this campaign in January, many thought we'd never succeed in the Senate. But, thanks to the tireless efforts of the many volunteers who knocked thousands of doors, made thousands of calls and wrote thousands of letters — we did it."
"We are elated, but our work is not yet done," Sullivan warned, tempering the jubilant mood of many marriage-equality supporters following Senate passage. "We look forward to ensuring Representatives hear from their constituents in support of S38 and H5015 as they go back to the House for a final vote."
Both bills, which were amended in the Judiciary Committee to clarify the religious protections, now go back to the House of Representatives, which passed H5015 in January by a 51-19 vote.
In a tweet, House Speaker Gordon Fox (D-Providence) wrote he was "looking forward" to a vote on the bills in the House Judiciary Committee on Tuesday, April 30, and an expected floor vote by the full chamber on Thursday, May 2. The House Judiciary Committee passed the original version of H5015 out of committee on a unanimous vote, and only one member voted against it on the floor.
Once the House approves the amended bills, they will be combined and submitted to Chafee for his signature into law. Once signed, the law will take effect on Aug. 1.
[Photo 1: Map rendering of Senate vote, with districts of supporters in green and opponents in red (mapping tool courtesy of Dave's Redistricting App).
Photo 2: Sen. Jamie Doyle (courtesy of R.I. General Assembly).]