"Some bands are definitely more hetero. Some bands aren't gay enough," says Kim Moyes, chuckling. "Whereas we definitely have our fair share."
Moyes is one-half of the Australian synth-rock duo The Presets, which this year became the first band to ever play the famed Sydney Gay and Lesbian Mardi Gras. The Presets have also twice played San Francisco's gay fetish bacchanalia Folsom Street Fair. "The music we make, house and techno, is a big part of the gay community," Moyes says. "And certainly in the past we really kind of hammed up our ambiguity." And in the future? Moyes notes the duo is in the early stages of collaborating with Jake Shears of the Scissor Sisters.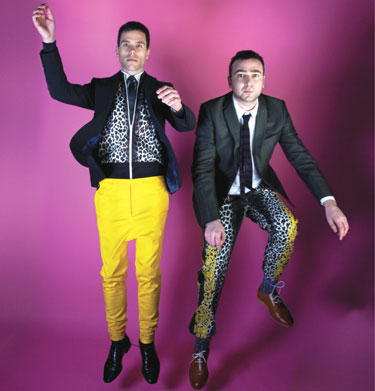 The Presets
One listen to an album by The Presets — or even better, a live show, such as the stop at the 9:30 Club Saturday, May 4 — and you'll immediately get these straight lads' gay appeal. An update on the sounds of Depeche Mode, Underworld, even a little Soft Cell, The Presets' electronic music is often edgy but generally euphoric and melodic, contagious. One of the duo's best-known songs is the visceral "My People," which was born as a protest song against the Australian government's harsh treatment of refugees. But especially live, the stunning song, which will.i.am of the Black Eyed Peas has credited as inspiring his band's album The E.N.D., becomes as much of an anthem as anything you might hear at a gay club. "I'm here with all of my people," singer Julian Hamilton sings. "So let me hear you scream if you're with me."
"In a crowd of like-minded people, or people who like our style of music," explains Moyes, "[the song] is like a call to arms. We are all connected. We should be celebrating."
And dancing. When the band stops for its late show at the 9:30 Club, the energy should be that of a Saturday night dance party, complete with a sharp lighting director. "Our show is like a DJ set," explains Moyes, "in that we've remixed a lot of our back catalog and found partners with songs and mixed them together to make a kind of seamless experience."
The Presets perform Saturday, May 4. Doors at 10 p.m. Nightclub 9:30, 815 V St. NW. Tickets are $30. Call 202-265-0930 or visit 930.com.