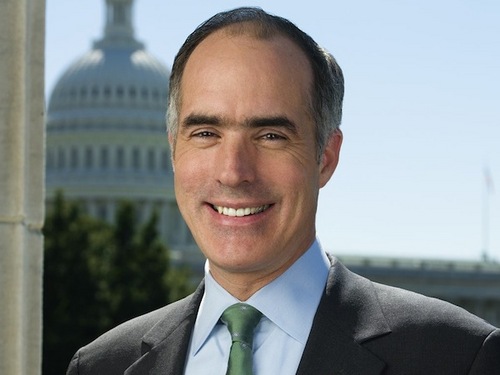 Sen. Bob Casey (D-Pa.) announced his support for same-sex marriage today, becoming the latest in a floodof Democratic senators to declare their support over the past week.
"After much deliberation and after reviewing the legal, public policy and civil-rights questions presented, I support marriage equality for same-sex couples and believe that DOMA should be repealed," Casey said in a statement provided to Philadelphia Gay News.
Previously a supporter of civil unions for same-sex couples, Casey has supported pro-LGBT issues before, including the Employment Non-Discrimination Act and the repeal of "Don't Ask, Don't Tell." However, he had not gone so far as to say he believes same-sex couples should have the right to marry until now.
In an interview with The Morning Call, Casey said he ultimately decided that to "make a decision about DOMA was making a decision about marriage equality itself."
"As a senator and as a citizen, I can no longer in good conscience take a position that denies her and her family the full measure of equality and respect," Casey said in his statement, referencing a lesbian from Southeastern Pennsylvania who contacted his office to detail hardships endured by her inability to marry.
Casey joins Sens. Mark Begich (Alaska), Tim Kaine (Va.), Kay Hagan (N.C.), Claire McCaskill (Mo.), Jon Tester (Mont.) and Mark Warner (Va.), who have announced their support for same-sex marriage over the past week as the Supreme Court considered two landmark cases surrounding marriage equality. That leaves only eight Democratic senators who have not stated support for same-sex marriage, including Sens. Tom Carper (Del.), Joe Donnelly (Ind.), Heidi Heitkamp (N.D.), Tim Johnson (S.D.), Mary Landrieu (La.), Joe Manchin (W.Va.), Bill Nelson (Fla.) and Mark Pryor (Ark.). Sen. Rob Portman (Ohio) remains the only Senate Republican to support same-sex marriage.
[Photo: Bob Casey (Courtesy of the U.S. Senate)]