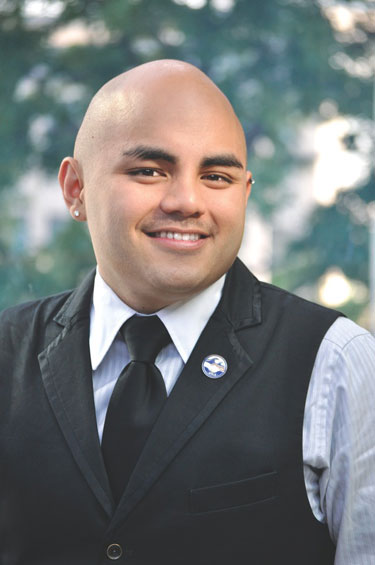 Greg Cendana
(Photo by Todd Franson)
Dyer cites Bonds's track record of support for the LGBT community through her stewardship of the D.C. Democratic State Committee as a reason she has earned his support. He also says Bonds represents a constituency that's very important in D.C. and can serve as a voice in government for poorer District residents who have been displaced by some of the city's various economic-development projects.
"All the candidates would be capable councilmembers, but after careful consideration, I've decided to support Anita," Dyer says. "She's always been there for us."
Lateefah Williams, a former president of the Gertrude Stein Democratic Club and also a Bonds supporter, notes that Bonds, while straight, has been a member of Stein Club since 1978, when it wasn't as popular to stand up for LGBT rights.
"During my time in D.C. local Democratic politics, I've had some time to see how much she cares about all people in the District, and how willing she is to make sure all people can enjoy success," Williams says, noting that Bonds is not an attention-grabber. "I've seen her work behind the scenes to focus on an end result. She doesn't feel she needs to take the spotlight."
Local activist Greg Cendana, of Adams Morgan, says he's not supporting either Bonds or Mara. Instead, he's thrown his support to Silverman, believing she is the "true reform candidate."
Cendana says his support of Silverman stems from her ability to engage with a diverse set of communities, her knowledge of budget-related issues from her time at the D.C. Fiscal Policy Institute, and her promises of bringing transparency and accountability to local government.
Cendana, a Stein Club member, also said he viewed Silverman's first-place finish at the Stein Club endorsement forum, where she fell four votes shy of the 60 percent threshold, as emblematic of the level of support in the community and a result of her continued efforts to reach out to various stakeholders.
"Stein historically supports incumbents, and the fact that Bonds couldn't even muster a majority of votes speaks to the level of support for Elissa, both inside and outside of the community."
But key to who will actually win the seat may be people more like Drew Brown, another undecided gay resident, who lives near Logan Circle. With about two weeks to until the election, he says he's considering Bonds, Mara and Silverman.
Like Lee and others, Brown says he doesn't believe there are any positions that help distinguish the candidates on LGBT issues, so he's looking at ethics and fiscal responsibility.
"Given the multiple scandals associated with the leadership in D.C. government over the years, I'm looking for someone that will add their voice to ethics reform for the City Council and mayor's office," Brown says. "Also, with the impact of sequestration not yet known, I would prefer a candidate that would stress fiscal caution in the next decade. We may have a surplus now, but that could be gone in just one year."
Ticking down to Election Day, Brown says he's paying closer attention to the candidates and trying to research the issues. But he still hasn't decided on a candidate.
"Even though I am a Democrat, I believe the city might benefit from a different perspective, so I would have to strongly consider voting for Patrick Mara," Brown says. "Silverman's responses to the issues on her website seem comprehensive. Her stance on holding back some of the surplus is definitely a plus. Bonds, as the current appointee, is worth considering since she has the political favor right now."
He pauses for a beat, then says, "Frankly, I wouldn't mind a Republican for proportional representation."