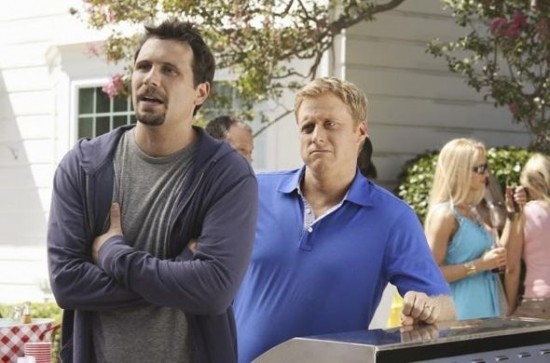 From the Press Releases that Have to an April Fool's Joke Dept., this just in from Warner Bros.
Life imitates art when Warner Bros. Television's Wednesday night comedy Suburgatory (Wednesdays 8:30/7:30c on ABC) goes where no other scripted series has gone before: from TV town to real-life town. The Studio has secured 400 acres of unclaimed land in upstate New York and will soon break ground to create a new town, inspired by the series' fictional town of Chatswin. Suburgatory will film upcoming episodes of the series on location in the new town, as signature businesses such as A Crystal Cup of Crystals, Chatswin High School, Chatswin Country Club and The Gurt Locker become working establishments.
Embracing the idea, Suburgatory star Ana Gasteyer has signed on to relocate from New York City so she and her family can become full-time residents of Chatswin. As part of this immersive experience, Gasteyer — when not in production — has agreed to occasionally host dinners, craft-making parties and gardening events as her character, Sheila Shay, in an attempt to connect with fans. A reunion of Sheila's Pets is even being planned for fall! Involvement by additional cast members will be announced at a later date.
In another first, viewers of Suburgatory will have the opportunity to become official residents of Chatswin. All details — including home listings, job openings and educational enrollment — can be found at www.thewb.com/suburgatory.
The few episodes we've watched of Suburgatory have been pretty good — and as we're fans of Jeremy Sisto (nice to see him playing a normal guy instead of a full-blown lunatic for once), Cheryl Hines, Chris Parnell and, especially, Alan Tudyk, we'd recommend you checking it out. As for this town thing, if it's not an April Fool's joke, then it takes Method Acting to a whole new extreme. Lee Strausberg would be so proud.