Following an April 8 candidate debate featuring the six candidates running for an at-large seat on the D.C. Council, D.C.'s nonpartisan Gay and Lesbian Activists Alliance (GLAA), among the oldest LGBT political groups in the country and one of Washington's most influential, is calling on two of them to apologize.
The comments in question were made on WAMU's The Kojo Nnamdi Show, when candidates were asked about a statement made by George T. Johnson – a local leader in the American Federation of State, County and Municipal Employees (AFSCME) – to The Washington Post claiming there is a strong desire within the District's black community to ensure that this council seat remains with an African-American councilmember.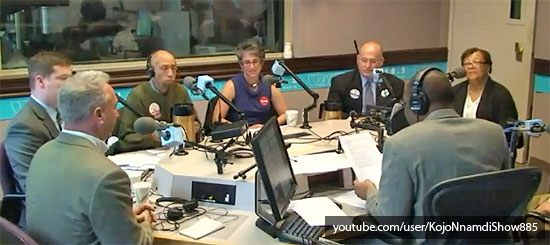 Perry Redd (third from left) and Anita Bonds (right) on WAMU's Kojo Nnamdi Show
(Photo via YouTube)
"People have perceptions about what this city is becoming … and they want this council to remain black, and if they don't get out there and put black folks in there, there will be a white city council," Johnson told the Post. "That's a rough thing to say, but that is the truth."
When asked about Johnson's comments April 8, incumbent Councilmember Anita Bonds, endorsed by AFSCME, said, "People want their leadership to reflect who they are."
Perry Redd, the Statehood-Green Party candidate, agreed, saying, "When Europeans are in control of any elected body, they do not care for the most vulnerable."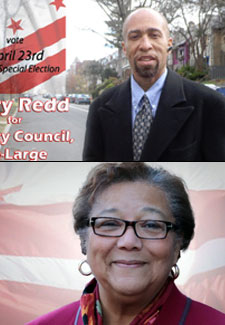 Portraits of Perry Redd and Anita Bonds from their campaign sites
Notably, of the six candidates, Bonds and Redd alone are African-American, while the remaining four are white. Currently, whites comprise a majority of the D.C. Council, holding seven seats, while blacks hold six seats. The other four candidates in the April 23 special election are Democrats Matthew Frumin, Paul Zukerberg and Elissa Silverman, and Republican Patrick Mara.
GLAA President Richard J. Rosendall, who posted the request that Bonds and Redd apologize for their April 8 comments, told Metro Weekly he conferred with his fellow GLAA colleagues before posting. GLAA members agreed that the group, which issues candidate ratings on a variety of LGBT-related concerns, would not dock points from either Bonds or Redd as a result of anything said during the WAMU debate.
"I have been voting in D.C. since 1980," Rosendall wrote in the blog post. "I have voted for many African-Americans and many women, despite being neither African-American nor a woman; and I have been pleased and proud to be represented by them. I believe that most of my fellow citizens across the various lines of our diversity reciprocate that attitude. Candidates for public office should embrace egalitarianism, not blithely disregard it.
"Dr. Martin Luther King, Jr. famously said, 'I have a dream that my four little children will one day live in a nation where they will not be judged by the color of their skin, but by the content of their character,"' Rosendall continued. "Those ringing words are a summation of the civil rights movement. The standard Dr. King set should be taken to heart by all Americans.
"As people come and go in our multiracial city and the demographics change, we must stand and work together for the benefit of all. Whatever the results of this special election, attitudes like those expressed by Bonds and Redd are not just wrong, but increasingly out of date. Competent and responsive government should be the focus, not color.
"Candidates should be evaluated based on merit, regardless of color, religion, party, gender, sexual orientation or any other factor unrelated to their ability and commitment to serve the interests of everyone in our city."
Bonds campaign spokesman Jermaine House, speaking on his own behalf rather than for the campaign, defended Bonds, saying that her response was nuanced and spoke to a feeling among some District residents that they are being forced out due to pressures resulting from the city's rapid growth, an influx of newer residents, rising property taxes and gentrification.
An official statement from the Bonds campaign followed, also quoting House:
"Let's make one thing clear: this campaign has never promulgated race as a basis to garner votes," House said in the April 10 statement. "We have never assumed our supporters will vote for Councilwoman Bonds simply because she is black, and we have never mentioned race in any statements, campaign literature, or speeches. Councilwoman Bonds responded to a direct question and her response should not be extrapolated from that context. The interpretation that Councilwoman Bonds expects votes because she is black is a notion we reject, and frankly, the media's incessant assumptions that black voters in D.C. will vote for someone just because they are black has laid the foundation for these misinterpretations – it did not originate with this campaign."
Redd advised Metro Weekly via email that his campaign will issue a statement on the matter by 1 p.m. Friday, April 12.
[Editor's note: This story was updated Wednesday, April 10, at 7:19 p.m., to include the response from the Bonds campaign. It was further updated Thursday, April 11, to correct an editor's error attributing the quote from the Bonds campaign to Bonds, rather than to spokesman Jermaine House.]