At the last turn of the century, Jim Ball, a New Jersey native, was working in PR and marketing, another dynamic transplant to Manhattan. Christopher Lynch, meanwhile, had left his North Carolina roots to work in the corporate world of Estee Lauder, first in D.C., then New York.
"He was a 'spritzer,"' Ball says, teasing the business-minded Lynch. It's a familiarity that comes not only from being business partners, but having once been romantic partners.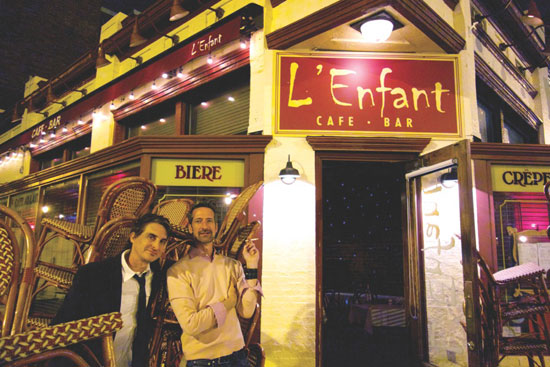 L'Enfant Cafe: Jim Ball (right) and Christopher Lynch
(Photo by Todd Franson)
While the two eventually split, turns out they're masters of co-parenting. The kid in this equation is L'Enfant Cafe, turning 10 years old on April 25. In that decade, this neighborhood spot at the intersection where the worlds of Dupont Circle and Adams Morgan collide, on the corner of 18th Street and Florida Avenue NW, has boomed. Or La Boum'ed? After all, "La Boum" is the café's übersuccessful brunch party of music, mayhem and mimosas. Along with the two-year old La Boum, there's SpeakEasy, the newer evening of live entertainment. But the stalwart — nearly as old as the café itself — is L'Enfant's annual Bastille Day Bash.
It's not just fun and games, though. The grand beers of Europe are covered. Want to don that beret and kick back with a pastis on the café patio? No problem. Moules? Frites? Crepes? Oui, oui, oui!
From its prior iteration as a cat-themed coffee shop, L'Enfant Cafe has turned the tables – and shows no signs of slowing down. Rather, Ball and Lynch have set their sights on expansion.
While the café's namesake Pierre L'Enfant may have had a major hand in the designing the District, Ball and Lynch have their own designs, marked by a playfulness and passionate creativity. Whether for Dining Out for Life, for brunch or a boisson, these masters of the house would like to welcome you into their world – a bit of old Pierre, a dash of Willy Wonka, and maybe a sprinkling of the "Green Fairy." Or was that Joey Arias?
METRO WEEKLY: How long did it take you to open L'Enfant Cafe?
JIM BALL: The start – from when we thought this would be a fun thing to do – was Valentine's Day, 2002. We sort of did it as a gift to each other. We got the lease in January 2003 and opened in April.
MW: And is the café specifically French? Belgian?
CHRISTOPHER LYNCH: I would say we're European. We don't say we're French or Belgian. Our customers tell us that. We just think of ourselves as being European.
MW: You're not diehard Francophiles?
BALL: No. People come in and say, "This is the best Belgian café I've ever been to." Or, "Where are you from in France?" And I say, "New Jersey." [Laughs.]