Jaime Wojdowski is ready to accept your complaints.
An equal-opportunity specialist and investigator for the D.C. Office of Human Rights (OHR), Wojdowski investigates complaints from residents who feel they've been discriminated against, whether in employment, housing, public accommodations or education.
Now two years into her job at OHR, Wojdowski's advocacy on behalf of those who experience discrimination actually began with her own coming-out process while she was a student at Georgia State University.
"I was never very political, and then I came out in college and faced so much backlash that it just became a very personal issue," she shares. "I'd always wanted to go to law school, but really didn't know what I wanted to do with it, and that definitely tuned me in to all the issues and made me want to be involved. I did my very first internship at the ACLU of Georgia. I was just in awe of the fact that they only had three lawyers, but they could file a lawsuit and the entire state would just freak out. That three lawyers could cause that much havoc, it was exciting."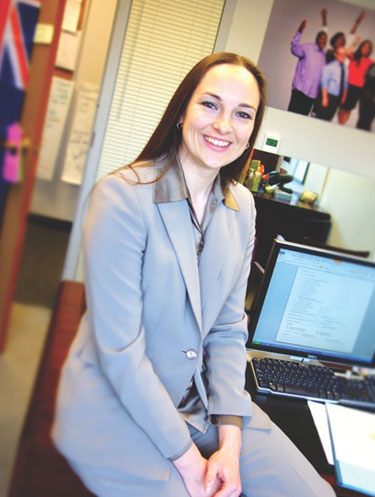 Jaime Wojdowski
(Photo by Todd Franson)
One of her first projects upon joining OHR involved an initiative, in response to hundreds of complaints, to ensure public restrooms in restaurants are gender-neutral in compliance with prohibitions on discrimination based on gender identity and expression under the city's Human Rights Act.
Wojdowski compiled a database to keep track of establishments she inspected, and transformed that data into an interactive map. Of more than 200 businesses that Wojdowski has contacted regarding gender-neutral restrooms, all but two have complied, according to her records.
"I encountered some restaurants who actually just didn't know that this was a regulation, so they were happy to comply once they knew about it," Wojdowski says. "With most of the people involved, it was just an education thing, more than any kind of hostility. Most people were cooperative."
In the line of duty, Wojdowski has even gone so far as to recruit her roommates.
"I actually took my roommates out to dinner at some places just to take pictures of their bathrooms," Wojdowski says, laughing. "I got a lot of weird looks from people for taking pictures of bathrooms."
While roughly 80 percent of 2012 complaints filed with OHR dealt with cases of employment discrimination, according to OHR's internal statistics, Wojdowski notes that she's heard anecdotally about discrimination in housing, particularly against transgender individuals, including in some of the city's homeless shelters. She says she believes housing discrimination complaints are under-represented compared to the frequency with which they may occur.
Wojdowski also notes that while race-based discrimination has generally been the No. 1 form of discrimination reported, the number of complaints involving discrimination based on disability has increased significantly. She also says, based on anecdotes, she believes there may be more instances of discrimination based on sexual orientation and gender identity that go unreported. To help residents better understand the process of filing a complaint, as well as to learn when one is warranted – at least with regard to housing – she's encouraging people to attend OHR's April 18 Fair Housing Symposium, cosponsored by the D.C. Department of Housing and Community Development and the Equal Rights Center.
The D.C. Human Rights Act prohibits discrimination in housing, employment, education and public accommodation against people who live, visit or work in the District based on 19 protected traits, including sexual orientation and gender identity/expression.
The Housing Non-Discrimination Symposium is Thursday, April 18, 8:30 a.m. to 4 p.m., at Mount Vernon Place United Methodist Church, 900 Massachusetts Ave. NW. Those planning to attend must first register at fairhousingsymposium.eventbrite.com.