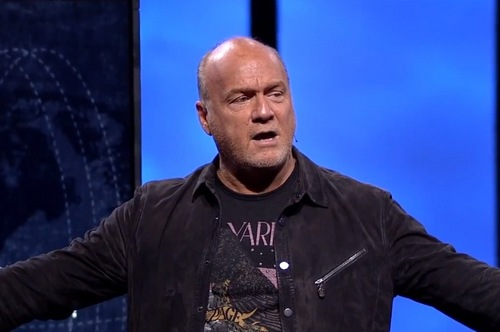 Two of the country's largest LGBT-rights organizations are protesting the participation of an anti-gay California megachurch pastor in a Thursday breakfast at the Pentagon marking the National Day of Prayer.
The Human Rights Campaign and OutServe-SLDN have collected more than 2,000 signatures calling on the Pentagon to remove Pastor Greg Laurie from its scheduled observance of the National Day of Prayer. According to advocates, Laurie's views that homosexuality is sinful and a choice is out of step with the vision of inclusion expressed by Pentagon leaders.
"Mr. Laurie represents the worst our nation's communities of faith have to offer when it comes to fairness, justice, and equality," said OutServe-SLDN Executive Director Allyson Robinson, who is also an ordained Baptist minister, in a statement. "His hurtful, out-of-the-mainstream rhetoric stands at direct odds with the mission the Commander-in-Chief and the Secretary of Defense have laid out: that this nation's military will be an institution that respects the dignity and honors the service of our gay and lesbian service members, veterans, and their families."
Laurie is senior pastor of the Harvest Christian Fellowship, which includes a ministry that seeks to "reach out to those in the homosexual lifestyle."
"We believe that homosexuality is a result of sin's widespread effects on the world (see Romans 5:12)," the ministry states on its webpage. "Homosexuality is a sin of behavior; therefore, people are not born into a homosexual or a lesbian lifestyle (see Romans 1:26–27)."
In a statement devoted to homosexuality, the ministry further states that "God does not create a person with homosexual desires."
According to the Pentagon, Laurie's participation does not signal an endorsement of his views by the Defense Department, and the National Day of Prayer, which was first established by Congress in 1952, is "not a Pentagon event."
"The Pentagon Chaplain has, however, invited National Day of Prayer chairs to attend a Pentagon prayer breakfast. In keeping with that tradition — first begun in 2004 — the Chaplain extended an invitation for Pastor Laurie to speak at this year's breakfast," said Lt. Col. S. Justin Platt, a Pentagon spokesperson, in a statement obtained by Metro Weekly.
Platt continued, "The defense department places a high value on the rights of service members to observe the tenets of their respective religions, and values each and every service member irrespective of their race, religion, creed, gender or sexual orientation."
HRC and OutServe-SLDN, however, have dismissed that argument and labeled the Pentagon's response as unsatisfactory, noting that while events held on Capitol Hill marking the National Day of Prayer are not Pentagon events, the breakfast held tomorrow at the Pentagon is.
"It's hard to see how an event sponsored by the Office of the Pentagon Chaplain, organized by that office, advertised with that office's endorsement, and held at the Pentagon itself is 'not a Pentagon event,'" said Robinson. "It's similarly hard to see how the Pentagon can truly 'value' lesbian and gay service members while rolling out the red carpet for a religious leader who considers them to be sick and sinful and their families a danger to America. LGBT service members don't need this kind of equivocation from their leaders; they need the kind of leadership Secretary Hagel promised."
"Saying the National Day of Prayer is not a Pentagon event misses the point entirely that the Pentagon Chaplain has invited Pastor Laurie to a Pentagon prayer breakfast — a fact they don't dispute," added HRC spokesman Michael Cole-Schwartz. "Parsing words does not change the fact that a pastor with a long history of vitriolic anti-gay rhetoric is being elevated by the Department of Defense. Evading the question of why he's there in the first place is not a satisfactory response."
Judging by the Pentagon's response late Wednesday, Laurie's invitation will not be rescinded by the Pentagon before tomorrow morning. Laurie appears aware of the criticism his participation is drawing, but has said he will attend as planned.
During an appearance at a prayer event held Wednesday morning by the anti-gay Family Research Council, Laurie vowed, "I won't back down." Laurie went on to equate his situation to that of the Old Testament story of Daniel in the lions' den, in which a law is passed prohibiting prayer and Daniel is thrown into a lions' den for continuing to do so.
"Here is something that we need to learn from that. The Devil does not want us to pray. It's been said that Satan trembles when he sees the weakest saint upon his knees," Laurie said, according to The Christian Post. "I've had people try to stop me from praying this week. And we have these activist homosexual groups who have alerted their people to petition the Pentagon."
[Image: Greg Laurie (Screenshot via YouTube)]