Though the urge to wax lyrical is almost overpowering (and follows below), let's cut to the chase: Synetic's The Three Musketeers is a joyously accessible adaptation of Alexandre Dumas's classic swashbuckler and is simply, absolutely, the most superb fun, whether you are a diehard Synetic fan or chose this as your first foray into the unique world of this one-of-a-kind theater company.
With an adaptation (by Ben and Peter Cunis) of the novel delivered in a whirl of wild and wonderful characters, witty and silly dialogue and a plethora of acrobatics and flashing blades, there is visually, spatially and literally never a dull moment.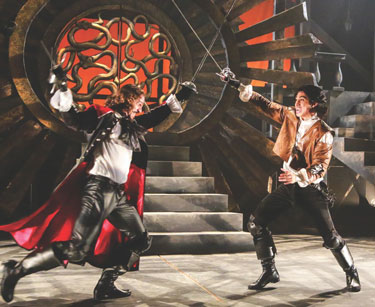 Three Musketeers: Peter Pereyraas as Rochefort and Dallas Tolentinoas as D'Artagnan
(Photo by Johnny Shryock)
And even with a story driven more through dialogue than Synetic's familiar vehicles of dance and mime, nothing is lost of the company's usual style and sensibility. Creating an alternate theatrical universe, director Paata Tsikurishvili and choreographer Irina Tsikurishvili set their own points of reference, ones that are rich with dreamlike imagery along with a carefully curated blend of artistic traditions – ancient, new and often touched with the shadows in which they were forged. Add the highly evocative sound design of Thomas Sowers and the haunting original music of Konstantine Lortkipanidze (and a few bars of one or two classics) and the storytelling is not simply entertaining, it is transporting.
A stellar cast, mixing the young and Synetically established, the characters roar with life (sometimes literally). The musketeers – Ben Cunis as the brooding Athos, Hector Reynoso as the boisterous Porthos, Matthew Ward as the stylishly sly Aramis and Dallas Tolentino as the eager D'Artagnan – are each simply but cleverly drawn and together generate the kind of unself-conscious, old-fashioned chemistry currently in danger of disintegration in film vaults. And not only can they all act (especially in the case of the silver-tongued Ward), their swashbuckling is as acrobatic as it is convincing.
As Athos's nemeses and henchwoman of the villainous Cardinal Richelieu, Milady, Irina Tsikurishvili is, as always, a stirring and deeply compelling presence. Playing her assassin with dark flair, she also reveals, for those who have only seen her dance, an extraordinarily beautiful and expressive voice. In her dances with Athos, she moves like veils in slow and relentless motion around Cunis's wooing dreamer and when they collide later in anger and loss, she writhes, sharp-angled, around his well-matched passion. Set to some of the most evocative of Lortkipanidze's music, her dance with Cardinal Richelieu is, with its mix of narrative drama and expressive moves, a stunning reminder that there is nothing like the frisson of live performance.
THE THREE MUSKETEERS





To June 9
$40-$55
Synetic Theater
1800 S. Bell St.
Arlington
800-494-8497
www.synetictheater.org
As a memorable Richelieu, Dan Istrate gives his cardinal the perfect blend of sinister, creepy, deadly and ironic. As Louis XIII, Robert Bowen Smith nicely balances his fop's temper with his camp. And stunningly self-possessed, Brynn Tucker plays her Queen Anne large enough to match the dynamics of the production without losing any of the nuance. As loyal handmaiden Constance, Brittany O'Grady offers a sweetly kittenish, but equally compelling, charisma.
In smaller roles, but adding the kind of color and physicality that keeps the production ablaze, Peter Pereyra is a dastardly Rochefort and Vato Tsikurishvili delivers a high octane Felton.
Dumas called first love a thing of "excessive joy." See Musketeers and feel it for yourself.