It's always a little disconcerting when you don't get what all the fuss is all about. A case in point, Jon Robin Baitz's Other Desert Cities is an award-winner with a successful Broadway run, and yet beneath its flamboyant premise, flaming one-liners and starkly delineated characters, there is only a tentative foray into its subjects: the bond between parent and adult child and the harsh edge between public and private lives. Of course, the play's popularity suggests that the flaws are easily ignored in favor of Baitz's cleverly conceived color, comedy and driven characters. But noisy and energetic shouldn't be confused with insightful, especially when there are plays such as Tracy Letts's August: Osage County stalking the same territory.
Still, Baitz is not without craft and ideas. His vehicle – a Christmas Eve reunion between the older, wealthy and deeply status-conscious Wyeth parents and their liberal East Coast adult daughter, Brooke, and West Coast TV producer son, Trip – is fertile ground for some interesting (and funny) cultural clashes. And its engine – Brooke's anxious revelation that she has written a book that may upset her parents – invites a far trickier and more provocative contest.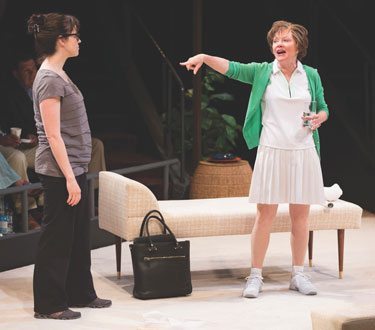 Other Desert Cities
(Photo by Scott Suchman)
And as Baitz maneuvers between the parents and children, he offers some skillful and perceptive footwork in the building and dismantling of the parties' points of view. There is a certain suspense in waiting to see who, if anyone, will be vindicated. But a veneer of clever one-liners and this promising premise are not enough. This play needs far less and a lot more.
The "far less" part is about Baitz's almost comical need to check all the boxes. As the evening unfurls, issues of depression, rebellion, alcoholism, politics, status, religion, old Hollywood, the woes of struggling novelists, and even what it means to be a terrorist surface. It may be what today's over-saturated audiences need to keep awake, but it leaves far too little room for exploring anything in any real depth about this family and what they have been through.
And it's not just the issues, but the résumés. Occupying, as one character calls it, the (already loaded) "subset" of being Republican Jews, the Wyeth parents are also former Hollywood contenders, she a screenwriter, he an actor. The lily is further gilded with the added nugget of back-story that Lyman followed family friend Ronald Reagan into politics and was later made an ambassador. It is all too much and requires an excess of expository in dialogue that needs to be moving into far more intimate realms. And it's the same with the array of personality types: There is too much telling and not enough being.
And this is where the more part comes in. In order to make compelling his questions, Baitz had to deliver a believable family. But despite all the descriptions of their family lore and status, there is far too little sense of an actual family connection (even a dysfunctional one) or the importance of the parents' need to keep their public face unblemished.
When parents have raised children, worried for them, helped them in times of crisis, there remains a family dynamic. Put families together as adults and there will be, subtle and otherwise, a shared language of old joys and wounds.
Baitz gets this, but his characters too often announce one another's foibles even as they react to them and this speaks to a playwright too eager to prove himself. As the plot thickens and the parties begin to rail and monologue, their words are heavy with message and import but not the depth, dimension and shorthand of once-shared lives. One may keep listening, but it will be out of curiosity, not emotional pull.
Still, this is a production that works hard to offer what it can. And, credit where it's due, there is plenty of flavor in Baitz's location of an exclusive corner of Palm Springs, Calif., on a Christmas Eve. From Kate Edmunds's sleekly unassailable living room with its fake and wholly ignored Christmas tree, there is much to be gleaned of the mental set of its occupants, along with a cohesion the play needs.
Taking a role that is clearly written to draw fine actresses with a yen to be "difficult," Polly Wyeth is derivative of other such matriarchs more completely drawn. Credible as far as the character goes, a uniquely charismatic Helen Carey captures Polly's flare, her edge and the blasé armor of someone used to functioning with a drink (or two) in her system. But, and this lies firmly at Baitz's doorstep, it is impossible to believe that she was ever mother to Brooke, let alone nursed her through a depressive episode; there is simply no indication of such intimacy. Women like Polly cling to even as they destroy. Baitz approaches but never captures this and it leaves Polly an entertainment, not an insight.
As Brooke, Emily Donahoe delivers nicely this woman's adopted East Coast persona and (whether Baitz intended it or not) the strongly self-indulgent streak often found in the artistic. But though Donahoe emotes on Baitz's schedule, his failure to build and explore the necessary dynamics means her tears and frustrations do not always ring true.
OTHER DESERT CITIES


To May 26
$40-$90
Arena Stage
1101 6th St. SW
Fichandler Stage
www.arenastage.org
202-488-3300
Also caught in this trap is Larry Bryggman, who gives his Lyman passion and pain where he can. Unfortunately, little of it makes sense since Baitz has him blowing incongruently hot and cold as events progress, but never truly connecting with his daughter. It's impossible to see him functioning at the ambassadorial level and this highlights further the absurdly inflated résumés. Brought on and off like a prop, Martha Hackett gives Silda Grauman, Polly's live-in recovering-alcoholic sister, as much color as she can in a character given short shrift.
The only player besides Carey to stay memorable despite the limitations is Scott Drummond as Trip. As Baitz's only ironic (and most likeable) character, a quietly charismatic Drummond undergirds Trip's wry humor with a watchful warmth that makes believable his urge to find family peace.
In the words of the band America, who wrote about another desert: "The heat was hot, the ground was dry, But the air was full of sound." Unfortunately, sound doesn't always equate with meaning.