As local lore has it, the proprietors of Provincetown, Mass., love "Bear Week." These are, after all, men who love to eat, drink and be merry – not tourists who avoid food, bars and everything else that comes with a tourist-town price tag.
As Stephen Lambeth puts it: "Dance, eat, drink, sleep, repeat. It's got everything you need for a vacation: bars, shows, whale watching, boating, beaches, shopping, ice cream, tea dances…."
Lambeth ought to know. The New Jersey-based bear has been a loyal Bear Week attendee for nearly a decade, and now maintains the Bear Week group page on Facebook. And when it comes to events, Provincetown offers plenty more than lounging by the pool or dipping your toes in the Atlantic. As Lambeth mentioned, P'town has shows – an oddly rich variety of them for a town its size.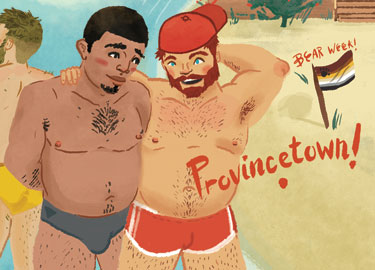 This summer, for example, you might take in Kate Clinton one night, Audra McDonald the next, then Miss Richfield 1981 or Joey Arias & Raven O. And that's just taking in the tip of the iceberg. The week's hosts, the Provincetown Bears, detail all the shows, accommodations, dances, tickets and more at ptownbears.org.
At this point, it will already be tough to find accommodation for the week, running July 13 to 21, though certainly not impossible, Lambeth assures. He's regularly scouring the P'town offerings to post updated availability for his Facebook group. But while he's sure there's still room at the inns, that may not hold for the entire week, forcing some Bear Week wannabes to split their time at different locations.
This likely isn't a concern for the initiated, who often reserve the following year just as they're packing up to head home at the end of a Bear Week. But for those newbies just now making their way, Lambeth – sort of the unofficial mayor of P'town during Bear Week – has plenty of advice to offer. For example, ask Washingtonians how they get to Provincetown and you'll usually hear details about flying to Boston, then heading to Boston Harbor to catch the "Fast Ferry" for the 90-minute ride to Provincetown. A few will go the whole way by air, transferring in Boston to Cape Air for the half-hour flight.
Lambeth's advises a different route.
"For D.C. folks, I suggest flying to Providence (R.I.) and driving up the cape. It's probably cheaper or equal," to making the trip via Boston, he says, comparing the ferry or second flight to the week's car rental. "It's a very pretty drive along the south coast of Massachusetts. And a car is good for side-trips."
The practical aside, Lambeth is more excited about offering tips on just having fun.
"Don't miss the tea dance at Boatslip Resort," he insists. "You should do it at least twice – or three times. Go to Spiritus Pizza at least once after the bars close – that's a ritual. Our early afternoon ritual is to go to the pool bar at Crown & Anchor. If you're up to it, climb the tower at least once."