A lifelong swimmer, an avid reader and a political junkie are just some of the traits that describe Andres. Born in the District but raised in Atlanta, the 22-year-old American University law student is constantly juggling his time between school and activities like recreational kickball. But he's also starting to explore and enjoy the variety of life in D.C., from hanging out on U Street to running on the Mall. When he has a night to spare, you might catch him at Nellie's, Marvin DC or JR.'s.
What's on your nightstand?
A beer can, my alarm clock, my reading lamp and a picture of my mom and me.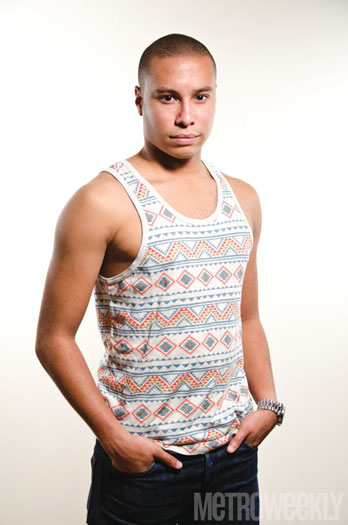 Coverboy: Andres
(Photo by Julian Vankim)
What's in your nightstand drawer?
A bunch of outlines from last year – I have lots of papers in there – and a cracked iPhone 3.
Where do you keep the condoms and lube?
They're in the house.
What are your television favorites?
30 Rock, even though it's not on anymore. I also like Scandal.
What was your favorite cartoon when you were a kid?
Probably The Wild Thornberrys. It was this obscure Nickelodeon show about this family that lived in Africa. I thought their life was so exciting and exotic.
Who's your greatest influence?
My dad. He's given me a lot of guidance. I look up to him. He came to the United States from Panama at 16, and was able to work his way through college and law school. I think that's pretty impressive.
What's your greatest fear?
Dying alone.