"I can't imagine being 53 and working until 4 in the morning every weekend night," sighs Shea Van Horn, "but I can't imagine myself not having some type of creative outlet."
As it turns out, the 43-year-old has slowed down slightly in the past year or two, dropping a couple parties and reducing the frequency of others. But he's still the same-old Shea, the leading multi-club promoter and DJ on the gay D.C. nightlife scene. He still throws, with Matt Bailer, the mega-popular monthly party Mixtape, which turns five this year. And next Sunday, May 12 — a day after the next Mixtape at the Black Cat — ushers in the third season of the popular weekly Sunday afternoon party Guil-Tea on the roof deck at Nellie's. He's also now at Number Nine on a weekly basis, VJ'ing a "Friday Night Videos" party upstairs.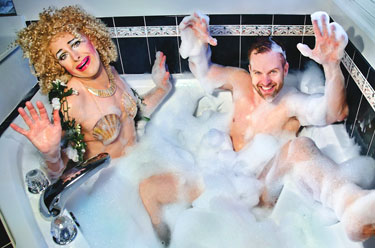 Shea Van Horn
(Photo by Julian Vankim)
And of course there's the hysterical party that started it all, Crack. This Saturday, May 4, offers the first theater-based Crack party in a year. "When we first started Crack we had a little more free time," concedes Van Horn, who started the event seven years ago with Karl Jones and Chris Farris. But even though it doesn't happen several times a year now, the focus is still the same. Says Van Horn, "Our whole approach is to put on a show that feels like high school theater."
This round of Crack will feature a Miss Crack competition, in which 10 contestants — nine drag queens and one drag king — will compete to take over the crown from Heidi Ho, otherwise known as Duplex Diner owner Kevin Lee. Lee won the only other Miss Crack competition, in 2006. Van Horn will host the show as his drag alter ego, Summer Camp.
Van Horn, who grew up in eastern Washington state, studied theater as an undergraduate in Seattle, where he also started dabbling as a DJ. He moved to D.C. to work for an international health nonprofit, putting to use his master's degree in health communications. But he didn't take to the decks again until Crack, initially DJ'ing in drag as Summer Camp. "It came back as a way to promote Crack," he says, adding, "I still laugh when I hear myself say that sentence. 'Promoting Crack.' It just sounds kind of silly."
Van Horn will miss one Mixtape party this summer when he'll be on vacation in Greece. He's also lined up guest DJs, including Bailer, to play for him at Guil-Tea, which he describes as "very open to requests, really kind of friendly and easygoing."
Those are just a couple of the ways, along with less Crack, Van Horn has lightened his party load. He recently bought a house in the Bloomingdale neighborhood of D.C. and is enjoying being more domestic with his "big fat cat" and his boyfriend of a year. But he doesn't expect to end his work in nightlife altogether.
"My love of living in D.C. is really as a result of being able to find a way to express myself creatively," Van Horn says, "and bringing people together and just doing all these things. So something will be going on."
Crack Drag: It's All A Delusion is Saturday, May 4, starting at 10 p.m., at Town Danceboutique, 2009 8th St. NW. Tickets are $10. Call 202-234-TOWN or visit towndc.com or crackdc.com.