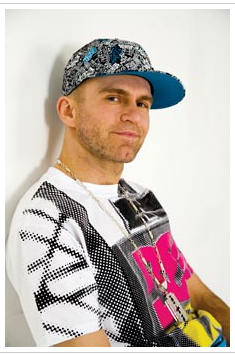 You may not have read about it in the New York Times — the Gray Lady has been disquietingly silent on the matter — but earlier this month the world lost a music industry and gay clublife legend. Peter Rauhofer, a native of Austria but most associated with his adopted hometown of New York City, died May 7 of brain cancer.
"One of my favorite producers was Peter Rauhofer," Kurt Graves, aka DJ TWiN, told Metro Weekly soon after Rauhofer's death. This Friday, May 31, at his second TempTation party at the Howard Theatre, TWiN will pay his respects: "I am going to play a good number of his songs in his honor."
Next month, as reported in this week's Metro Weekly, New York's Roseland Ballroom will host a full-on tribute to Rauhofer. Any number of performers Rauhofer worked with over the years are expected to make a surprise appearance at this June 29 party, the Saturday night of New York Pride, and speculating just who might show up is a wide-open sport: from Suzanne Palmer and Deborah Cooper all the way up to Madonna, Rauhofer's highest-profile regular remix client. The Material Girl, in fact, performed a couple times as Rauhofer's surprise guest at New York's Roxy Nightclub.
Meanwhile, the party's headliners Chus & Ceballos, the incredible Spanish DJ duo who were on the roster of Rauhofer's Star 69 label, will offer a tribute set. "I've given them a lot of his old a cappella's [to work with]," Rauhofer's assistant Nima Nasseri tells Metro Weekly. The other DJs — Isaac Escalante, Eddie Martinez and an unannounced "Very Big Special Guest DJ" — will also honor Rauhofer at least indirectly, just by playing from his huge catalog of remixes and productions. "Everybody always plays Peter's stuff, you know?" Nasseri says. "It's a staple."
Deep In The Discoteka
If you need a refresher, Peter Rauhofer served as the resident DJ for New York's former Saturday night institution The Roxy and more recently as the DJ and promoter behind occasional mega-parties at New York's big-room venues, including Roseland.
But Rauhofer, who also used the production handles Club 69 and Size Queen, was more widely known for his expertise as a remixer. He won one of the very first Grammys for his remixing work in 2000, in part due to his rework of Madonna's "Nothing Really Matters," which remains one of his very best.
Through his remixes, generally eight minutes in length, Rauhofer could transform songs like few others, making you like songs you didn't originally, or at least didn't appreciate initially. A case in point: This dance music reviewer wasn't impressed by Madonna's "4 Minutes" until Rauhofer's Peter Saves Paris Mix came along. (He also did Peter Saves London and Peter Saves New York mixes of the 2008 hit.) Why, he even made Paris Hilton sound good, with his "Reconstruction" of "Turn It Up."
"I love challenges. If you feel it's not that great, at the end you have to make something good out of it," Rauhofer told Metro Weekly in 2006 before headlining D.C.'s Cherry weekend that spring. "And sometimes I really was surprised. I thought, 'Ah, that is un-remixable.' [But] at the end, it sounded great, and I surprised myself." At that time he said he was most proud of his remixes of Christina Aguilera's "Beautiful" and Depeche Mode's "It's No Good." Those are incredible, but he also deserves props for his heavy, breathy rework of Destiny's Child's "Lose My Breath." It leaves me breathless after every listen.
"I make the beats go boom, papi," Tia Texada cooed on the Starkillers' 2006 track "Discoteka," which Rauhofer released on Star 69. Rauhofer could have easily cooed the phrase himself. Boom, boom, boom: His beat-booming skills will be sorely, sorely missed.
A Peter Rauhofer Retrospective
You can listen to most of these classics and more in Metro Weekly's Peter Rauhofer Retrospective Spotify playist (which also includes all those referred to above). Many can also be found in continuously mixed Soundcloud playlists created by D.C. DJ Mike Reimer and DJ Paulo, as well as a live set recorded by DJ Tom from Prague from his recent Green Lantern tribute party.
Believe In Me — Peter Rauhofer
Killer (Peter Rauhofer Remix Part 1) — Seal
Do It Properly — The Collaboration (Peter Rauhofer + Victor Calderone) featuring Deborah Cooper
Break 4 Love — The Collaboration featuring Pet Shop Boys
Get A Job (Peter Rauhofer Remix) — Gossip
Whateva (Peter Rauhofer Remix) — Ralph Falcon
How Would U Feel (Peter Rauhofer Reconstruction Mix) — David Morales with Lea-Lorien
Who Am I (Peter's New York Club Edit) — Massiv
Just A Little While (Peter Rauhofer Mix) — Janet Jackson
Drama — Club 69 featuring Kim Cooper
Try (Peter Rauhofer Remix) — Pink
The DJ's List — Peter Rauhofer featuring Lula
Twisted — Club 69 featuring Suzanne Palmer
Nasty Girl (Peter Rauhofer Reconstruction Mix) — Inaya Day
Filthy Mind (Peter Rauhofer Club Mix) — Amanda Ghost
Time (Peter Rauhofer Timeless Club Mix) — Murk
Heartattack (Peter Rauhofer's Particular Mix) — Jahkey B feat. Satta
Cha Cha Cha (Peter Rauhofer NYC Edit) — Offer Nissim
Rolling In The Deep (Peter Rauhofer Remix) — Adele
Oh La La (Peter Rauhofer Reconstruction Mix) — Goldfrapp