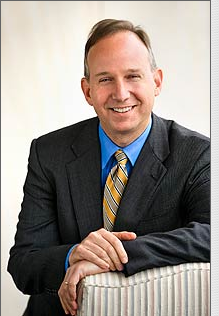 Delaware Gov. Jack Markell (D) today signed into law a bill allowing same-sex couples to obtain civil marriage licenses, making Delaware the 11th state to legalize marriage equality.
Markell signed the bill at a ceremony held at Legislative Hall, sending out a tweet reading: "Signed #MarriageEquality bill into law @LegHall bc no one should have to wait one more min. #NetDE is truly grt place to live, learn and love."
The governor signed the bill less than an hour after the state Senate passed the marriage-equality bill, HB 75, by a 12-9 margin. Eleven Democrats and Republican Sen. Catherine Cloutier (R-Heatherbrooke) voted in favor, while the other seven Republicans joined with Democratic Sens. Bruce Ennis (D-Clayton) and Robert Venables Sr. (D-Laurel) in opposing the measure. The bill previously passed the House of Representatives on April 23, 23-18.
The new marriage-equality law is slated to go into effect July 1.
[Photo: Gov. Jack Markell (Courtesy of the Office of the Governor)]