Craving a slice of Tesla's automotive future, but don't have the bank account for the $62,400 sticker price? Fear not. The company's CEO Elon Musk has announced that, in addition to now offering unconditional warranties on all Model S power packs — even if the user is at fault — and using Model S and Roadsters as loaners should one's car need to visit a garage, Tesla is also upping its finance terms to make the Model S even more accessible.
Apparently, sales have been strong enough that financing partners have agreed to allow the current 63-month finance term to extend to 72 months. Tesla claims that, after taking deposit and fuel-savings into account, the average user will pay just $580 per month to own the Model S. Business users can expect a monthly rate of $315, once the depreciation benefit is taken into account and with 70 percent of miles driven being for business use.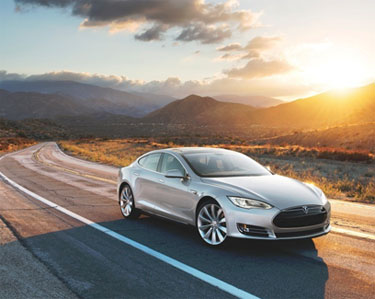 Tesla
This comes with a fresh guarantee from Musk, who previously assured owners that the Model S would have a resale value comparable to that of the Mercedes S-Class, that the auto will now have the highest resale value of any premium sedan. Tesla has also updated the "true cost of ownership" section of its website. So if you're curious to see what impact the Model S would have on your automotive — and financial — life, head over to teslamotors.com and check it out.
Meanwhile, the company has just announced a Performance Plus package for the Model S, claiming it takes the sedan's handling into supercar territory.
Their reasoning? A journalist told Musk that the Model S handled well, but was out-performed by McLaren's MP4-12C supercar. Instead of suggesting the man Google "obvious statements," Tesla's engineers instead rented the McLaren and set about trying to match its dynamics.
The result? A $6,500 package that fits upgraded dampers, bushings, stabilizer bars and better gripping Michelin tires on the optional $3,500, 21-inch wheels — which are 20mm wider at the rear. Tesla claims that overall handling and performance are greatly improved, but that ride comfort is also better. On top of all that, Model S's with the package will get six to 12 more miles per charge than standard cars.
It's available now for new orders. Current owners, meanwhile, can retrofit the package to their cars so they don't feel left out. If Tesla's handling claims bear fruit in the real world, those with deep enough pockets have an easy decision to make.